Reading New Moon: Chapter 13 (Killer)
August 25th, 2008 at 12:04 am by Kaleb Nation
The song for this chapter is Everybody's Fool by Evanescence (suggested by Margaret)

[audio:https://twilightguy.com/music/everybodysfool.mp3]
How does one get homework assigned on the first day of class? It is a question that plagued me this weekend. Somehow, three of my professors assigned homework on Friday, which meant that most of my weekend was spent reading up on history and government: though thankfully, absolutely, positively, NO calculus homework. And because of that, I was able to finally read the fateful Chapter 13… 😀
At the start of this chapter, Bella Swan is on a mission, and her mission is to save Jacob. However, the entire time she seems to be fighting another inner battle. If Jacob is in fact a killer like the others in his pack, is Bella doing the right thing by warning him about the hunters? If by doing this she is saving his life, is she simply defending a group of killers?
For some reason, I don't think that the wolves are in much danger faced with some puny hunters. I think Bella should actually be warning the hunters instead.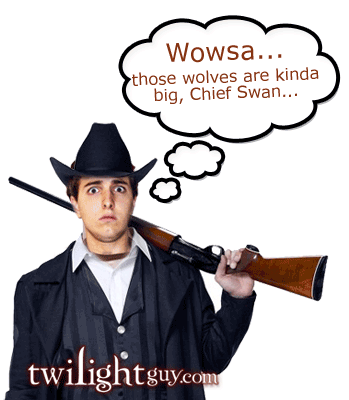 As we all pretty much knew, Billy has been in on all of it, because after immediately lying to Bella that Jacob is gone, he tells her he is actually sleeping right down the hall when Bella confronts him with news of the wolf hunt. There always seems to be this network of distrust between Bella and whatever supernatural group she comes in contact with: and it isn't until she confronts them about it that they actually let her in.
Bella: Hi Billy, is Jacob here?

Billy: No Bella, he's anywhere but here. I have absolutely, positively no clue where he is.

Bella: Seriously, I need to talk to him.

Billy, whistling: Jacob who? What Jacob? Never seen him in my life.

Bella: There are people in the woods hunting for big wolves. Let me talk to Jacob.


Billy: Oh, you mean THAT Jacob…
Exactly as I predicted (and, I must gloat, it was a totally unspoilered prediction) the blood and the deaths in the woods were not caused by the werewolves, but rather by the vampires that still inhabit the area. I knew that Jacob would not be murdering people like this, and I saw the signs of vampires early on.
What I really liked to hear, however, was that Jacob and the werewolves serve the part as protectors: as a sort of anti-vampire. Because, honestly, if you have a group of vampires move into a nearby wooded area, and these vampires are amazingly strong, fast, and have a tendency to enjoy your blood, it would be nice to have a balancing creature that will fight against them. I see now why Jacob and Edward never really got along, and why the Cullens told the Blacks to stay on a separate place of land.
As I pointed out before with my lovely little triangle diagram, this is certainly going to cause troubles in the future between Bella, Edward and Jacob, as two of the three are natural enemies. Problems? Much.
The puzzle has mostly come together with this chapter. I see the deaths in the woods have been caused by the wandering vampires. I also noticed that these bad vampire seem to have appeared quite suddenly in the Cullen's territory after the Cullen's left. This is something that the pack cannot deny: the Cullens had a part in keeping these bad vampires away while they were there. Now that they are gone, however, the werewolves are now forced to watch all the land, and to exercise their strength more fully than before.
What makes things even more dangerous is that Victoria is still wandering the woods: thirsty, I am sure, and holding a grudge against Bella for her mate's death. This, of course, is the definition of the word 'danger'.
——NOTES——
– Posts will be scattered this week because of school starting.
Posted in New Moon