Reading New Moon: Chapter 14 (Family)
August 28th, 2008 at 12:05 am by Kaleb Nation
The song for this chapter is Near To You by A Fine Frenzy (suggested by Alexis)

[audio:https://twilightguy.com/wp-content/uploads/2008/08/neartoyou.mp3]
From August 29 – September 3, I will be doing one of the following:
– Kidnapping Bailey and forcing her to make a guest appearance on my channel, thus making my subs soar to somewhere in the half-of-hers (alright, wishful thinking). OR

– Appearing on Oprah to divulge my deepest and horrible-est secrets, subsequently selling 1 million copies of my memoirs called Oh Woe: My Life Story (coauthored by L. Snicket). OR

– Flying home to visit Isabelle the Famous Pig (alright, and my family too, sheesh).
Take your pick. Whichever you choose, rest assured that even though I will probably disappear from the online world for a few days, I will still (hopefully) be alive and well in some part of this country, albeit a bit further south than usual. But while there's still time: on to chapter 14!
I realized, with some help of the comments, that I was slightly backwards in my previous post: the Cullens hadn't told the Blacks to stay away; the Blacks had, instead, told the Cullens not to enter their land. The truce between them seemed fair: if the Cullens abide by certain rules, namely that not feasting on humans, then the Blacks would leave them alone.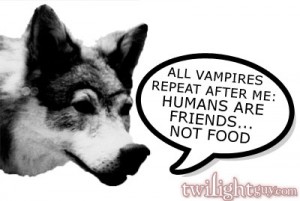 Wisdom of the Wolf
It seems still to be a pretty fair way for both of them to live near to each other without an all-out vampire vs. werewolf war, which is a scary thing to imagine.
I think Jacob will be in this predicament a lot in the future: defending his decision to bring Bella in on their secret. Like with the Cullens, I am sure that some of those in the group of werewolves do not want Bella involved. I am a little confused on the group of werewolves, though. At first, the immediate fight between Jacob and Paul seems to show how much tension is between this group: if they all fully trusted each other, nothing like that would have happened. But then, after the vicious fight, they seem to be normal pals again. Is it something with anger management that these werewolves have trouble with? Because it seemed like they were ready to murder each other at one time, and then are sitting down to a meal a few minutes later.
I actually feel sorry for Billy Black because of all the clothes that Jacob apparently goes through. After all, on top of Jacob growing in enormous amounts already, anytime Jacob is angered or provoked into a fight he pretty much destroys what he is wearing in the morphing process.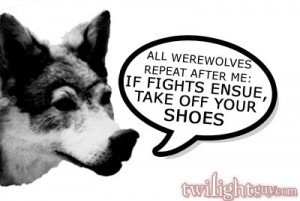 Wisdom of the Wolf, Cheap Humor Edition

Probably one of the most touching and important scenes I have seen so far is when Sam enters the house and kisses Emily.
"[…] so much love saturated his voice that I felt embarrassed, intrusive, as I watched him cross the room […] and kissed the dark scars on her right cheek before he kissed her lips.
I do not know how she got these long scars, nor do I know the story behind her or Sam. But with that scene my entire opinion of Sam, Emily, and all the others, was changed. The long, red lines that scar half of Emily's face are nearly ignored by Sam. It's like they aren't even there, because he loves the person more than anything.
I had been under the impression, thanks to all the fighting, growling and grumbling, that this group was hardly civilized. At a moment's notice they seemed ready to spring at each other and fight, and all up until now, I haven't seen any of them show any sign of emotion or caring towards anyone else. So watching how deep the feelings between Sam and Emily are, I see all of them in a completely different light.
As I'm sure most people were, I was formerly prejudiced against Sam because of all the dark things that Jacob had described; and even after Jacob went back on it, I was hesitant to believe him, thinking that he was brainwashed like the others. Now, I'm very happy to see that the werewolves actually seem to act like a pretty tight family.
Finally, if you haven't already, listen to the song picked for this chapter (up at the top). For some reason, I have the feeling that this will be one of those on the voting list when we go to pick the song for New Moon…
——NOTES——
– As you know, I will be gone from August 29 – September 3. See everybody after!
Posted in New Moon
Tags: New Moon, Stephenie Meyer, Twilight