Reading New Moon: Chapter 15 (Pressure)
September 8th, 2008 at 12:05 am by Kaleb Nation
The song for this chapter is Into The Ocean by Blue October (suggested by Cynthia)

[audio:https://twilightguy.com/music/intotheocean.mp3]
If anyone here has ever been to Austin, Texas, you will know that there are three things very common about the place:
Hippies
Athletes
Crowds on 6th Street
We experienced all three from the sidelines while I was on vacation. As we drove through Austin, we were nearly trapped downtown due to the starting of about 5 different citywide races, which coincidentally would block off most avenues of escape. Each race had a title. My favorite: the Run For Your Lives. But as we navigated through traffic, I found one solid thought on my mind: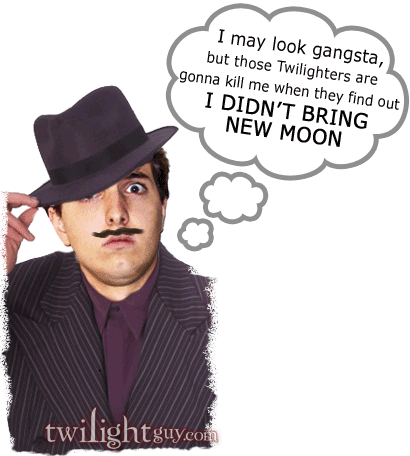 Yes, I didn't bring it on my trip, which is why I haven't posted a chapter in at least a week. I got my punishment: no New Moon to read on the way home. But now I'm back, and I'm on to Chapter the Fifteenth!
Where I left off last week, Bella had met Emily and Sam, and some of my commenters were wondering why I did not know how Emily had gotten her scars. The reason is that it was not explained yet, but I did get the story in this chapter, and it is a sad one.
There is a very obvious danger in being a werewolf, and one of the most painful is the ability to hurt those you love. In the words of Uncle Ben from Spiderman: "with great power comes great responsibility". And a creature like a werewolf, whose powers seem to come from being angered, is one who should have the gravest responsibility over their own actions.
Seeing Emily scarred is like having a constant reminder in front of Sam of how powerful his abilities are, and how dangerous it is simply for him to be alive. I see it also as something that each of them, Jacob included, has to deal with every time they think of Emily: just how much pain they can cause if they lose control.
I couldn't help but be reminded of Edward Scissorhands when I thought of this aspect of the werewolves. For those who have not seen the wonderful Tim Burton film, Edward Scissorhands is a person who has gigantic scissors at the ends of his arms, instead of hands or fingers. Because of this he has been isolated in a castle for most of his life, only coming out once into the world. However, when he ventures out, he finds that any time he tries to come close to anyone he loves, because of the sharp blades on his hands, he only ends up cutting and hurting them.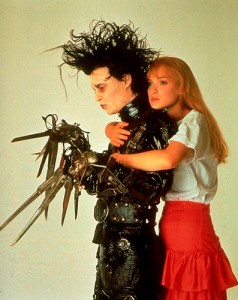 Jacob: "Feeling like I can't be sure of myself–like maybe you shouldn't be around me, like maybe nobody should. Like I'm a monster who might hurt somebody"
Even though I am thinking of Jacob, the same also seems to go for Edward Cullen and the vampires as well: this constant distance they must keep from losing themselves, or getting too near to the people they love. I see now that Sam is probably not serious and grim because he is angry: it seems more to me that he is sad and remorseful because he knows what he is capable of.
Werewolf powers are very interesting, especially when compared with those of vampires. There are certain distinct differences between things 'vampire' and things 'werewolf' if you look closely. For one, the vampire powers seem to usually revolve around some extension of the mind: thought-reading, calming a room, seeing the future, etc. None of these are actual, physical powers, besides the side effect of a vampire's body being very strong and very fast. Werewolves seem to be more physical and rough: strength, heat, the ability to heal quickly. They seem to be cruder in their abilities, a completely different culture than that of the vampires (forgive me if I'm drastically wrong, and there is a mind-reading werewolf in the next chapter I do not know of 😀 ).
As I have said before, Cliff Diving + Bella Swan = Great Danger. It was bad enough when she was going to the cliffs with Jacob. But when Bella changes her mind, and decides to go jump off the nearest cliff alone, I figured she was headed for danger (again).
——NOTES——
– There have been some important changes to emailing me that you should read, especially if you have sent me an email in the last 3 months and have not gotten a reply. I never thought I would have to do this so soon, but with school and writing taking up more time, there have been some changes made.
– I know that Into The Ocean has been used once before for New Moon, but it fits for this chapter again 😛
– There are brand-new I Support Stephenie Meyer buttons for your Myspace or website that you can get on the Downloads page.
– TwilightTeez is running a hugely awesome contest for new shirt designs! Check it out here.
Posted in New Moon
Tags: Mike Newton, New Moon, Stephenie Meyer, Werewolves