Reading New Moon: Chapter 16 (Paris)
September 11th, 2008 at 12:02 am by Kaleb Nation
The song for this chapter is Thinking Of You by Katy Perry (suggested by Ashley M)

[audio:https://twilightguy.com/wp-content/uploads/2008/09/thinkingofyou.mp3]
As I came to the end of Chapter 15 around midnight last time, I realized that I had come to a dilemma, as it ended on the most cliffy of cliffhangers and yet I had school early the next day and couldn't stay up any longer (Calculus homework does that to you). I was forced to go to bed just as Bella was drowning.
But as we all know, and I do now as well, Bella wasn't actually going to drown (come now, the book kinda would have ended there, right?). I found it very interesting how deeply described the scene is where Bella is trying to catch her breath. After all, unless you've ever been near-drowned before, I can't imagine all the feelings and icky sounds of someone trying to clear their lungs of water. Was Stephenie nearly drowned before? Or was it all entirely from her imagination?
Writers will enjoy this because it makes you really think about experiences and how they work their way into a story. I know for one that in what I'm writing now, there is an important scene on an airplane. Until this year, I had only been on a plane once, when I was 11. I got lucky this year, and have taken a few flights in recent months. I learned three things on these flights:
The reason people don't take the back seats is because the engine is there.
I am alarmingly claustrophobic.
Now, when I write a scene inside an airplane, I know exactly how it feels and can transfer that onto the page. If however I had to write a scene in which the airplane was grabbed from the skies by a giant ogg-serpent, I would obviously have to imagine it happening. In the same way Stephenie either wrote the near-drowning scene from experience or from having a very good imagination of how it would feel like.
Bella's mind begins to wander after her dream, to Romeo and Juliet: thinking on who Paris might have been and then transposing it onto where she is now. What if Paris had actually been the type of person she might be able to accept? What if Paris could fit the role of Jacob, whilst Bella's true Romeo was still Edward?
Slowly, Bella's defenses are beginning to fall as she tries to convince herself, again, that it is time to move on. But she knows still that no matter what she does, no matter what Jacob turns out to be, she will never be able to completely lose the memory of Edward.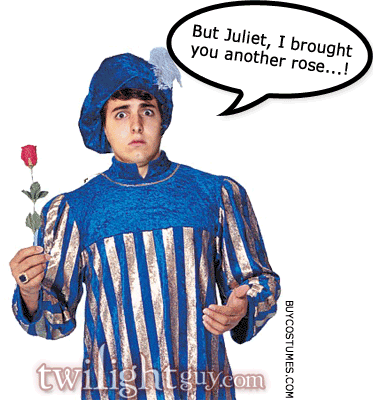 I was very surprised to see Carlisle's car parked across the street from Bella's house: but even more surprised at Jacob's reaction. It could very easily be anybody in there. I don't put it above Victoria to simply buy a car like Carlisle's just to trap Bella.
Thus it seems very unwise for Jacob to simply leave Bella all alone to go into her house. I do see, however, how he is torn and the reasoning behind why he left. He is, after all, on forbidden territory. By being there, he is breaking the treaty that his people had with the vampires, thinking that the vampires have been long gone for quite a while and are not returning. I have a feeling that seeing one of the Cullens back in town is going to have some sort of effect on the werewolves who are now freely wandering about.
——NOTES——
– The Support Stephenie Meyer video project has already started off wonderfully! If you want to submit a video, you can find out more here.
– I am considering doing a live Blogtv broadcast one night. Has anyone done it/seen it before (it is similar to Stickam)?
Posted in New Moon