Reading New Moon: Chapter 12 (Intruder)
August 22nd, 2008 at 12:03 am by Kaleb Nation
The song for this chapter is Lips Of An Angel by Hinder (suggested by Morgan)

[audio:https://twilightguy.com/music/lipsofanangel.mp3]
This week has been one of my fastest yet, with school starting in nary a few hours, book edits turned in and such. So whilst sitting here at home with a nearly empty refrigerator, I am hoping that reading New Moon will help distract me from my maddening hunger just long enough for food to appear. On to Chapter 12!
The moment that Jacob appeared in Bella's window, my first thought was that his bewitchment must have been broken somehow.
Jacob in the previous chapter: 'Huff…hufff…go away…huff…huff'

Jacob in this chapter: 'Hey, are you okay?'
Notice the obvious difference in demeanor? In the last chapter, even after Sam left, Jacob seemed more animal than human. He barely talked to Bella without his teeth clenched together. When he shows up in her room at night (surprisingly reminiscent of Edward) he is a much different person.
But then, as if to say yet again how much Jacob has changed, even his victory smile has changed to reflect more of Sam in him now.
I will admit that I wasn't very surprised to see that Jacob was a werewolf, and I don't know why it took Bella so long to realize it. Mayhaps I have simply been spoilered by all the news and media surrounding Twilight that I already knew and was expecting Jacob to be one. Either way, it brought back memories of what was said in Twilight: how there is only one enemy of werewolves, and that is vampires.
Therein lies a problem.
Because, as we all know, Edward is a vampire. Edward loves Bella. And Jacob loves Bella. Bella…er…loves both of them, I guess. So, we have what some would call a triangle: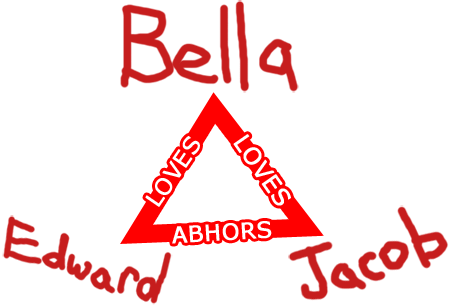 As you can see, Bella is in quite a bit of trouble because she can't exactly remain loving both of them at the same time while they are abhoring each other. If Edward, a vampire, and Jacob, a werewolf, are mortal enemies by nature, both of them probably won't be able to handle it.
The fact, however, is that though Edward is gone now, like Bella, I still have not completely accepted that fact and I don't really believe that Edward is gone for good. Thus, that means that he will eventually come in contact with Jacob. When that fight breaks out, I don't know if I'd want to be there (although, of course, I would just love seeing that happen and all the sure-to-follow insults:
Edward: You're nothing but an overgrown dog.

Jacob: Oh yeah? You suck.

Edward: Oh yeah? Well…um…Your mom goes to college!


-Crickets Chirp-

Jacob: Whoa man…let's not get nasty in here.
Finishing chapter 12 marks that I am halfway through New Moon! And just in time for the werewolf problems to begin…
——NOTES——
– I will be in the new chat tonight, around 8 or 9 PM central, if you want to come say hi. After that, I won't be on as often because of school, but I'll stop by when I can.
We offer complete collection of 646-205 practice questions and1z0-050 lab tutorial to help you prepare for microsoft mcp exam.

Posted in New Moon
Tags: Jacob Black, New Moon, Stephenie Meyer