Reading New Moon: Chapter 22 (Flight)
October 6th, 2008 at 12:02 am by Kaleb Nation
The song for this chapter is Unbeautiful by Lesley Roy
[audio:https://twilightguy.com/wp-content/uploads/2008/10/unbeautiful.mp3]
As many may have noticed, I only posted one chapter last week. My excuse for this could be one of the following:
A) The Lasagna Burglar returned, held me hostage, stole the contents of my freezer, and then left me foodless. Hunger ensued.
B) I had three college exams and lack the convenience of having eight arms. Exhaustion ensued.
C) This. My demise ensued.
Whichever of those you choose to believe, I am back and in full swing this week, as I near the inevitable end of New Moon, and the great and glorious book Eclipse, for which I have strangely enough been totally unspoilered!
It is so wonderful to see that things appear to be slowly going back to normal. The most obvious effect of this remarkable turn of events is that Bella and Edward are together again: just as before, except that Bella is still dangerously worried that once they arrive back in Forks, Edward will be gone again.
As I had expected, seeing him again has grave consequences upon her, mentally as well as physically. I attribute this to an Edward-style dehydration: she's been without her vampire for so long, when she finally has him back, it takes a while for the effects to wear off. Though Edward told Bella that she was his exactly brand of heroin, I have come to the conclusion that it goes both ways for them. I saw an obvious struggle for Bella each day she was away from Edward — he is something that is keeping her alive, so that by finally having him back and so near, the effects are drastic as she begins to feel so many emotions at once.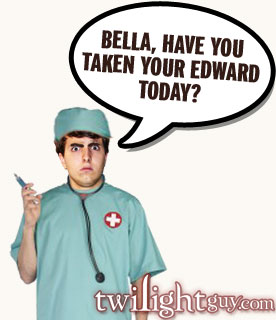 Why is it that I see some distorted reflection of Bella in Gianna? To me, Gianna must have some reason to stay with the vampires, as opposed to her own race of humans. Does she love a vampire like Bella does? Why would she want to be a vampire so badly that she will openly, and often, betray a group of her own people to become vampire snacks?
It is my guess, perhaps misguided due to not knowing much about her, that Gianna finds everlasting life and unparalleled powers appealing enough to do her job, in the hopes of becoming a vampire as well. I wonder if there will be more with her later on…
——Notes——
– As with Twilight, I will be doing a Pick The Song for New Moon contest! You will be able to send in your suggestions for the entire book starting TOMORROW MORNING, so be sure to check back!
– I have been doing some unscheduled shows on BlogTV, so keep an eye out on my page because I'll be back on this week again.
– This week, there will be a NEW Twilight Trailer, debuting online Thursday, October 9! You can see it online before anyone else with the Twilight widget at TwilightTheMovie.com.