Reading New Moon: Chapter 23 (The Truth)
October 9th, 2008 at 12:02 am by Kaleb Nation
The song for this chapter is Tomorrow by Avril Lavigne

[audio:https://twilightguy.com/music/tomorrow.mp3]
In a mere 24 hours, I have been inundated with over 1,700 submissions to pick the song for New Moon. It led me to this simple formula: Twilighters + Music = Excitement. This is a formula whose simplicity I wish was mimicked in my calculus exams. Unfortunately for me, that is not the case, thus in order for me to read the next chapter in New Moon, my math study notebook has been cast into the nearest rot heap.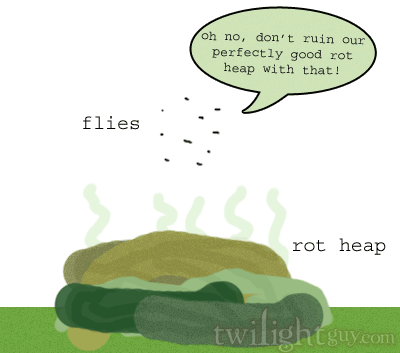 It is painful to see how much Edward tortures himself inside, believing that he is little more than a demon who is only endangering Bella the longer he stays near her. By now, it is irrefutable that he cannot be apart from her: the results of his attempt to separate their bond nearly resulted in his death, which even then seemed to Edward like a small price to pay for Bella to be safe.
Having been plagued with hallucinations and nightmares after Edward left, Bella does not immediately believe that it is really Edward who is before her in the middle of the night. She tries to deny it and tell herself that in a moment she will awaken again, and Edward's face will be yet another fading memory that will torture her the rest of the day.
Why is it so serene that night? Why do I get the feeling that finally, though Victoria is still alive, and though Bella is still in much danger, that perhaps things are turning for the better? The reason is this: Edward has again come through Bella's window, and they are again arguing softly in the night.
No hallucination that Bella has had so far has come close to the realism of having him finally back, sneaking in just as he did before he left her in the forest. It is almost that with this simple return to what it was before, the story of Bella and Edward has made a circle back to the way things once were.
But if this is a circle, that means to continue on the same track will end in Edward leaving again. The only way to keep this circle from following the same course of events is this time, for Edward to tell the truth.
I think that Edward is right — Bella never would have let him go had he not convinced her he didn't love her anymore. It was this lie that started the chain of events that nearly led to their demise. By telling this lie, Edward believed that he was doing the right thing: saving Bella's soul from the torture she would get from staying near him. He has always wanted her to have a normal life, free from the bonds that immortality holds over him.
However, he easily forgets the fact that by leaving, he is not saving Bella, but hurting her even more. Thus when Edward finally tells Bella the truth, I felt relieved that finally they can begin to heal from all the pain that has come between them in the past few months. By finally telling her the truth, that he lied when he said he did not love her, Bella can begin to unravel the months of withdrawal she has gone through, and find some way to put things back together in the way they should have been in the first place.
To me it seems that as he is confiding in her how he felt while they were apart, and how much pain he went through without her, in the same words he is voicing the thoughts left unspoken in Bella's mind — the same way she felt when he left her.
Still, a few things remain unfinished, and the question again is whether it is smart turning Bella into a vampire now, in favor of being with Edward for eternity. The next chapter is the final: and then the Epilogue.
——NOTES——
– Just got word that Moviefone.com has some exclusive images from the movie! Click here to check them out.
– Keep sending in songs! Voting begins next week.
– Be sure to watch the Twilight movie widget for the new trailer this evening!
Posted in New Moon