Reading New Moon (Chapter 24): Vote
October 13th, 2008 at 12:05 am by Kaleb Nation
The song for this chapter is We Need Each Other by Sanctus Real

[audio:https://twilightguy.com/music/weneedeachother.mp3]
Ah yes: the final chapter of New Moon. When I opened the book to read this, I found myself remembering how this felt when I read the final chapter of Twilight: like the closing of one part of Bella and Edward's story and the opening of another.
As I have pointed out so many times in recent chapters, the story of New Moon has been circular, and thus I get a feeling that things are returning to the way they were before Edward left. As Edward races through the woods with Bella, I can't help but remember this scene in Twilight — when the love between them was fresh and new. It seems to be a sign that it is growing back again out of the pain in the recent months.
It is a sign of a good writer when the story has connections within itself, things that draw us back to earlier scenes and strengthen the entire story. The strongest example of this was in Chapter 24. We all remember the various escapades that Bella had with the motorcycles, trying to throw herself into something dangerous in order to distract her from Edward, but at the same time trying to make his voice return to her head. Then, in chapter 24, whilst clinging to Edward and going through the woods:
"The speed was exhilarating. A hundred times better than a motorcycle."
That is the connection. Bella does not need the motorcycle anymore to feel alive. She has Edward.
It is in this way that I see not only a return to the beginning of New Moon, but a return to the beginning of Edward and Bella again, back when things were new and alive. This is the only way for them to heal their relationship: go back to how it was before, when their love was strong.
I found it so surprising how much had been missed, and how much things would have been different if only the truth had been known. Though Edward had thought Bella would have forgotten him, instead she thought of him every day, and nearly every breath revolved around keeping his memory alive in her head. Though Bella thought that Edward didn't love her any more, the whole time he had been tortured since leaving her. Though Bella thought that Edward had disappeared, taking with him all reminders that he had ever existed, Edward reveals that in fact, they had always been there:
"Your things were never gone," he told me. "[…] It was stupid and childish, but I wanted to leave something of myself with you. The CD, the pictures, the tickets — they're all under your floorboards."
These things exist, to me at least, as outwards signs of Edward's love for Bella. They were physical signs of different times in their relationship: the CD Edward had made for her, the pictures of them together, the tickets. And just as they were never gone, and were near to Bella all the time, so was Edward's love for her, though it was hidden until Bella went looking for it again.
And then, it comes down to the vote: should Bella become a vampire? Yes, I see so many reasons for it. How will Bella ever be able to protect herself from Victoria, or the Volturi, if the come for her? Edward can't be beside her at every moment of every day.
Almost all of the Cullens vote on Bella's side, and I'm sure that many also believe that Bella should be turned into a vampire right then. But what is it that is holding Edward up? Why does he dislike the idea so much to have Bella for eternity with him?
It must be understood how hard a decision it must be for Edward not to turn Bella into a vampire. The main result of her staying human means that one day, she will die, and Edward will be left alone. Why for any reason would he want that? Perhaps Edward, as connected with Bella as he is, knows that it is better for her to stay human as long as she can, and enjoy her life, rather than turn to a vampire and be with him forever.
Still, they come to a compromise, and Bella receives a promise that Edward will turn her one day. Is Edward perhaps hoping she will changer her mind before then? Or is it that really, deep down inside, he still has hope that he is not really such a demon after all.
"If you really believe you had lost your soul, then when I found you in Volterra, you would have realized immediately what was happening, instead of thinking we were both dead together. But you didn't — you said 'Amazing. Carlisle was right," I reminded him […]
There is hope within Edward that he is redeemable. There is also hope within him that one day, they will spend eternity together.
Charlie, understandably, is not happy with Bella's fierce decision to stay in Forks regardless of what he thinks. After all, if I was Charlie, I would be a bit wary of this Edward fellow… even without knowing that he is of the species persuasion to drink one's blood. I keep wondering how Bella will ever break the news to him; moreso, how he will react.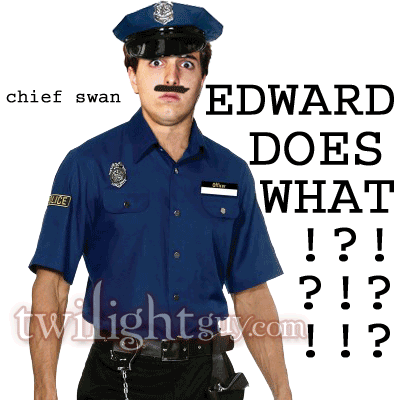 And the proposal? I will admit: it was one thing I was not spoilered on in New Moon. I was not expecting it to happen so quickly. Yes, I was surprised 😀
My final thoughts on the Epilogue are forthcoming.
——NOTES——
– Speaking of voting…keep voting to pick the song for New Moon! I just heard from TwilightTeez.com, and they are letting me give away one of their brand-new TWILIGHT HOODIES to one randomly selected person who votes! There are only a few days left, and I will be posting the results when I write my final thoughts on the book and the Epilogue.
– ADDED: I don't usually mention non-Twilight stuffs, but I just interviewed author J. Scott Savage of the Farworld series, and he is giving away five free copies of his new book to people who comment on the post! So if you want a chance to get a free book, head on over and check him out 😀
Posted in New Moon