News and Housekeeping
October 18th, 2008 at 12:05 am by Kaleb Nation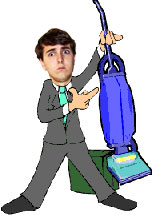 It is about that time of year when a bit of housekeeping is needed on TwilightGuy.com, and the best time to do it is while I'm between books!
Site Updates
– Like the new design? I've structured the new site so it allows me to change the side background images out with other cool things, so when November comes along, you know it will be stuff for the movie!
– Since I started this site it's had problems with going offline due to CPU usage. That problem has now been fixed and it should never, ever happen again 😀
Appearance News
– I will be appearing at Summer School In Forks to give a keynote speech at the special luncheon. Anyone who is interested in a great time in Forks with lots of other Twilight fans should come out and see us! I will have more news on this as things get closer, but for now you can visit the official website of the event.
– Twicon just added the Bella Cullen Project to their lineup! They are the first band to sign on to the event.
Twilight Premiere
– THANK YOU so much to everyone who has donated to help with the costs of me going to the premiere! Within one week, we raised about 2/3 of the amount I need (I would put an exact number, but many of the payments were by check and haven't been processed yet). I can hardly believe that so many of you wonderful people came together so quickly, so I have little doubt it will be complete by the time I have to fly out.
– I might be attending the TwilightLive Podcast in LA before the premiere. If I will be attending, I will post it on here.
My Book
– Gobs of the email questions I get are about The Farfield Curse. You can still email me for preview chapters, just please give me a few weeks to reply. Also there have been bunches of updates at BranHambric.com on the book
BlogTV
– Bailey (NoMoreMarbles) and I will be doing a live BlogTV in the same room on October 25! I'll have more news on this as it gets closer.
Other Housekeeping
– I still cannot friend people I do not personally know on Facebook, so if I do not reply to your request that is why. You can still friend me on Myspace instead.
– Yes, I am officially Nerdfighter # 14164.
I will be starting on Eclipse on Monday, so be sure to check back and have a great weekend!
Tell me in the comments if you like the new design or have any technical glitches:
Posted in Uncategorized