Reading Eclipse: Chapter 4 (Nature)
October 30th, 2008 at 12:03 am by Kaleb Nation
The song for this chapter is I'll Stand By You by The Pretenders (suggested by Giada)

[audio:https://twilightguy.com/wp-content/uploads/2008/10/illstandbyyou.mp3]
As Halloween is rapidly impending, I have started to ponder some good haunting movies I should watch while I gorge myself to blotation on leftover candy (hopefully including Reeses, if the little goblins and witches don't bang down my apartment door and take it all). I'm thinking of Nightmare Before Christmas (again) or Pan's Labyrinth (very much again) or Hellboy II (first time) or perhaps all three (whoopee). It would make my week wonderful. Which is far more than Bella can say about her week in this chapter.
Things have obviously not been going well for her. She is still torn between her best friend and her true love: a triangle that has plagued many a character in many a soap-opera. Meanwhile, Edward has gotten mighty thirsty, and Bella is insistent that he head off with his brothers and bag a few mountain lions (and we all know my experiences with mountain lions).
Due to multiple previous examples, I keep on expecting Bella to get into some sort of trouble while Edward is not around. I am sure that Edward is thinking along the same lines, because of how carefully placed Alice is, within 10 minutes of Bella in case anything 'interesting' happens in Edward's absence (AKA, Bella tries to speak with Jacob / takes up that cliff-diving hobby again).
Even though Bella seems safe, I get this strange feeling that Victoria is already formulating a plan. After all, she has outwitted both werewolves and vampires for months. What sort of super-powerful vampire is she?
It is so interesting how Bella found a loophole in Alice's powers. She hadn't at all been intending to head on over to see Jacob, especially with Alice only ten minutes away and ready to stop her if she tried. But the catch to this is that Alice wouldn't have time to read Bella's thoughts and get on the trail before Bella had already crossed the border line.
Jacob, of course, is very happy to see Bella. But, as usual, things begin to turn sour as questions are raised, and Jacob again tries to convince Bella she is better off with him.
He does, however, have one slightly irritating habit. Jacob simply cannot wrap his brain around the fact that the vampires have names and that he should probably call them by it. Even dogs have names, and people will rarely if ever holler out DOG! and expect an animal to come running. So, in watching Jacob's conversations closely, I have devised the following chart that tells me which vampire he is talking about:
The fortune-telling bloodsucker — Alice

The big one –Emmett

That redhead — Victoria

The blonde – Rosalie

The other blonde — Jasper

Their leader — Carlisle

That big fat ugly rotten no-good stinking horrible bloodsucking scoundrel from the deepest and stinkiest depths of hell — Edward
It is like in a way, Jacob is showing yet again how low he thinks of the Cullens: he hardly ever uses their names, because to him they are lower than animals. I did, however, find it rather amusing that Jacob has such anger against supernatural creatures, when in fact he is the one who will suddenly rip his clothing to shreds and turn into a big hairy wolf.
Speaking of wolves, I was rather confuzzled by the flier that originally got Bella's attention: SAVE THE OLYMPIC WOLF. What is it about the Olympic Wolf that needs saving? What is it about the Wolf that makes it Olympic?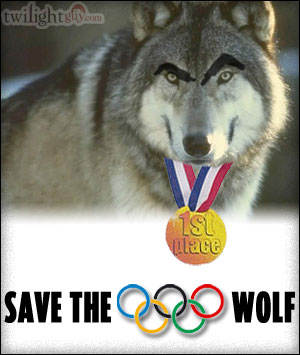 As I was expecting, magnets appeared in this chapter. I remember mentioning this as an analogy before, which was followed by shouts that I'm either reading ahead or an undiscovered psychic. Reality is, it is easy to compare this little love triangle to magnets. Bella's love is something that simply cannot be split across Jacob and Edward, no matter how hard she tries to force it.
Jacob does bring up and interesting point that I have actually pondered, whilst reading New Moon. What if Bella hadn't jumped off the cliff? How many things would be different if you change one action?
This type of thing always intrigues me. It is a regular habit of mine when I am bored and cannot sleep to trace back certain things and wonder what would happen if I made a different decision. If I hadn't sent my email query at the exact time I had, at 8 in the morning on May 17 of 2007, I might not have gotten the attention of an agent for my book. If I had in fact awoken on April 17 of 2008, the day after starting this site, and taken it back down (as I had planned to do), I would not be writing this right now.
Similarly, if Bella had not jumped off the cliff, and sent Edward spiraling into self-destructive depression, would the vampires had really come back to Forks? Because of this one, small change, would Bella still be with Jacob, instead of Edward?
And woe! Mike Newton is brought up again. I don't think there ever was a person who was discussed more behind his own back than Mike. He is practically famous amongst vampires and werewolves, and he doesn't even know it. Every conversation eventually leads back to something along the lines of, "Well then, I'm going to stick with something NORMAL for a change…like Mike Newton!".

Question for the comments: what do you think would have happened if Bella had not jumped off the cliff in New Moon? Would Jacob's idea be correct?
——NOTES——
– Apologies for the no-posting of TwilightGuy Reports this week — had a calculus and government exam. And we all know how much I adore calculus.
Posted in Eclipse