Reading Eclipse: Chapter 5 (Imprint)
November 3rd, 2008 at 12:05 am by Kaleb Nation
The song for this chapter is Vindicated by Dashboard Confessional

[audio:https://twilightguy.com/wp-content/uploads/2008/11/vindicated.mp3]
If ever you have an urge to see a group of weird and unusual people, try sitting at a bus stop in Dallas after dark on Halloween night. Or rather, just come to my campus on such a day, and you might get to see similarly strange individuals such as this fellow or this fellow. Being an honorary stick-in-the-mud, I spent my Halloween getting a haircut, in class, and voting… but at least made up for it with a good Tim Burton film after midnight (the only real movies that should be watched on October 31st).
There is a key word I have heard many times in Twilight circles, and that word is imprint. Until this chapter, I didn't have much of a clue of what it mean, except knowing it is important since many questions Stephenie has been asked at bookstores have to do with Jacob imprinting on whoozit and whatsitsname. For some reason, I was under the impression, due to my semi-spoilered state, that to imprint on someone, a werewolf would whack someone on the forehead, and after recovering from unconsciousness the person would forever be mentally imprinted as the wolf's mate (seriously, I am not joking). Don't ask how I got that idea, because it makes absolutely no sense to me either.
However, the imprinting throws another problem into this story, and I don't know if perhaps I am lost on something or if this is a question raised by others as well. Jacob appears to have told Bella that he has never imprinted on anyone:
"Did it happen to you?" I finally asked […]

"No," he answered briskly.
So if Jacob has not imprinted on anyone, and it is something that a werewolf knows almost instantly, how is it that he is so sure he is made for Bella? Because the best type of a relationship for him would be with the person he imprints on, and if he hasn't imprinted on Bella, doesn't that make his love for her simply an infatuation — something he will leave behind in an instant when his real soulmate appears?
My thoughts on this only deepen when I find out more of the story behind Sam and Emily — who, I was surprised to find, have a lot of amazing similarities to Bella, Edward and Jacob. Back in the day, Sam, Emily and Leah seemed to have had a little triangle of their own: Sam loved Leah, but was meant for Emily.
In turn, I applied this to the current triangle — maybe to use the past to predict the future in a way. The unfortunate thing is, though Sam is very happy with Emily now, it took a lot of pain and heartache to get to that point. He had to leave the first girl he loved for another who he was meant to be with. Is the same going to end up happening for Bella? Will she have to leave Jacob behind, hurt and heartbroken, so that she can be with Edward?
It is interesting, too, how both Edward and Jacob have mind-reading capabilities, and how Jacob uses Edward's power to his own advantage. It is true that when Edward left, Bella was a mess. I know Edward must regret everything that he did, trying to detach himself from her: and it was Jacob who was there for her. I know they both remember that, and it does not make Edward feel any better.
I also find it so interesting that both of them can read minds to certain extents, and yet can't break into Bella's…
"Yeah." the smugness faded. "It probably means there's something wrong with my brain," I admitted.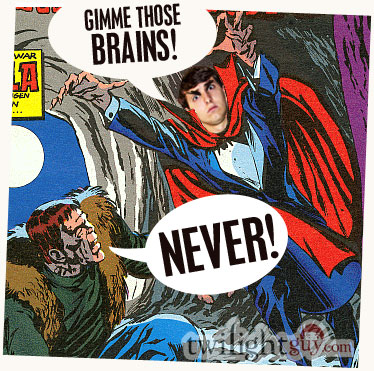 Question for the comments: since the majority of you have already read the books, how do you think the story would be different if Jacob was imprinted on Bella?
——NOTES——
– For those of you who enjoy my music, I just finished a new song and I'd really like your opinion on it! You can listen to it here and tell me what you think!
– Just heard from Summit that Robert Pattinson will be appearing at Planet Hollywood in New York! You can read more about it on the Lexicon.
– I am still running the contest where you can enter for a chance to talk to Catherine Hardwicke in an exclusive live video chat! Entries must be received soon, so check out the contest page for more info.
We offer guaranteed success for mcse 2008 using latest 642-456 dumps questions. Save best on real exam with 70-646 online training.
Posted in Eclipse
Tags: Eclipse, Halloween, Imprint, Jacob Black