Reading Eclipse: Chapter 6 (Switzerland)
November 6th, 2008 at 12:05 am by Kaleb Nation
The song for this chapter is Switzerland by The Bella Cullen Project

[audio:https://twilightguy.com/wp-content/uploads/2008/11/switzerland.mp3]
As I hastily unloaded groceries after a quick trip to the local store, I was suddenly stopped in my tracks by a sight I had never seen before. A silver volvo. Parked in front of my apartment.
I was shocked that I reacted at all. I mean, it is just a silver Volvo. Nevertheless, I literally stopped and stared to make sure that it was actually a silver Volvo, and not some figment of my imagination. Though it wasn't extremely shiny (we are college students after all), it was silver: and was perhaps my first silver Volvo to ever see in my life and consciously recognize its presence. Its owner, however, was nowhere to be found.
Edward's own shiny silver Volvo has probably been circling the border line multiples of times since Bella went in to see Jacob, because he's right behind her in a flash, following her just so she knows he is there and is watching. I can almost feel the anger pulsating from that car, and Bella is obviously a bit too afraid to face Edward in a place without other people nearby.
I have learned two things in the past two chapters about Stephenie's world. For the previous chapter, this word was Imprinting. For this chapter, it is obviously Switzerland.
I've never been able to figure out until recently what the country of Switzerland has to do with vampires. I know the Swiss make fine watches and fine cheese (a piece of which I usually eat before I go on BlogTV) but I have never heard of the Swiss having anything to do with vampires.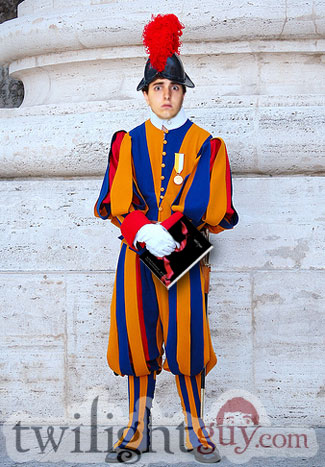 The Swiss Guard have nothing to do with vampires. Whatsoever.
However, the new definition of being 'Switzerland' has finally been spelled out for me: and it is a very obvious way to avoid choosing Edward of Jacob and getting your head bitten off by the opposing side.
Why is it that I feel like a creepy eavesdropper, listening in on Bella and Angela through a tiny hole I have carved in their ceiling? Their conversation is comprised completely of three distinct subjects:
1. Boys
2. Boys
3. Boys
I don't need to be hearing these things. I am a guy. The last time a conversation like this came up, Bella and her pals were talking about prom dresses in Twilight. It causes me to cringe slightly, as if I am walking in on a conversation to which my entire gender is uninvited and unwelcome. As if I might be standing in the corner, and then Bella eyes me suspiciously and says, 'Do you NEED anything, sir?' and causes me to sheepishly jump out the window.
However, after managing to pull through it, I was able to pick up on a certain tidbit that I can easily identify with:
"I got my dorm assignment yesterday. The farthest building from campus, naturally." (Angela)
for I am in a similar situation as well: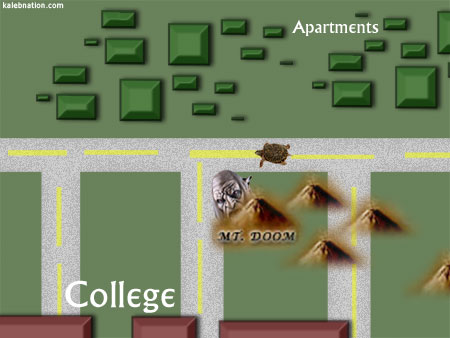 The map of my adventurous journey home from school
Of course, Alice has been paid off by Edward: in the form of a new Porsche. Up until now, I haven't really clicked entirely with who Alice is as a character. But all of a sudden, in this chapter particularly, I have come to realize just how bubbly and almost-eternally-happy she is. Anytime she opens her mouth to speak, it almost always turns into a paragraph:
WHAT ALICE SAYS:

"Not really." She sniffed. "You don't seem to grasp how dangerous a young werewolf can be. Especially when I can't see them. Edward has no way of knowing if you're safe. You shouldn't be so reckless (jabber jabber jabber) "

WHAT SHE MEANS:

"Werewolves are dangerous. Be safe. Now."
But is the long extended way of talking that makes her character so colorful. And of course Alice wants to stay up with Bella long into the night: vampires don't need any sleep. Very cunning, Alice.
How can I possibly set the book down at the ending of this chapter? How is it possible for any human to stop reading when Rosalie shows up at Bella's door? It is possible only when it is 1 AM and I have not yet eaten dinner (which will soon be called breakfast if I wait any longer). So, it's off to mealtimes then bedtimes for me, and another chapter asap… if I can actually keep from peeking into what Rosalie has to say before.
Question for the comments: if you were Alice and had to be bribed, what type of car would YOU demand? 😀
——NOTES——
– Summer School In Forks recently added tons of new stuff to their convention! They will be having a live podcast from The Bloodsuckers, a prom night with The Bella Cullen Project and Bella Rocks, and tons more! I will also be giving a keynote speech at their BBQ luncheon, so if you want to visit Forks at a great convention, check out their website!
– Please vote for me on the Topsites! I'd really like it if I can get some more good reviews on there from people who enjoy my site: click the button below to rate my site on the list!
Complete collection of HP0-Y23 dumps and 70-640 practice exam to help you successfully complete your ccia certification.
Posted in Eclipse
Tags: Eclipse, Summer School In Forks, Switzerland, Twicon