Reading Eclipse: Chapter 11 (Legends)
December 5th, 2008 at 12:05 am by Kaleb Nation
The song for this chapter is Human by The Killers

[audio:https://twilightguy.com/wp-content/uploads/2008/12/human.mp3]
So, as most of you noticed, I didn't post on my regular Thursday. My favorite email from yesterday went something to this effect:
Subject Line: EGADS!

>What happened? Where are you? Are you DEAD?
>I need a post. I wants a post. I must have
>its. Give its to usss. preciousss.
>
*hides*. This makes me all the more hesitant to actually go check my new PO box, having no idea what might jump out at me.
Anyhow, as I read chapter the eleventh, I realized that there are certain advantages to hanging out with a bunch of werewolves. First, you'll probably never get that cold. Second, you are pretty much safe from any beast that wants to leap out of the shadows and kill you. And third, you will never, ever run out of food.
Especially if you enjoy hot dogs, chips and root beer, which is all Jacob's friends seem to eat. It leads me to wonder if werewolves are as stuffed with cash as vampires are. I would hate to be the person who gets stuck with the food bill, especially since they eat in one meal about the same amount normal people eat in a week. Suggestion: why not simply buy a restaurant, get massive discounts on bulk food, and pay for it with the profits? I'm sure Charlie would be a customer — especially seeing that heaping mountain of steaks he had at the diner.
It's so funny how these werewolves act just like human-shaped dogs. Having grown up nearly my entire life with at least one dog in the house, I can vouch that dogs can be sitting and eating a meal, then leap into a temper, and then leap back into being friendly again. Example (edited to save space):
"Jacob, gimme the hot dog." Paul said.

"Hale no," Jacob replied.

Despite the fact that Paul had eaten at least as much as Jacob, he glowered and his hands balled up into fists.

"*Rawr*," Paul said.

"Sheesh." Jacob laughed. "Kidding […]."

"Thanks, man," Paul said, already over his brief fit of temper.

Eclipse pg. 240
It's like trying to take a toy from a dog: dog wants toy, boy does not give toy, dog growls, boy gives toy, dog licks boy and grins. Even after a scuffle, all is forgiven and forgotten.
I liked it that the group is so welcoming to Bella — I wonder if it is part of a plan to make her feel more warmly towards them, so that Jacob might have an easier time convincing her against becoming a vampire. There seems to be an interesting tribal connection between them all that wasn't so obvious to me before: all the werewolves seem to be sticking together with their relatives, from Harry Clearwater's widow, to Billy Black, to Quil and Old Quil (and maybe Even Older Quil?).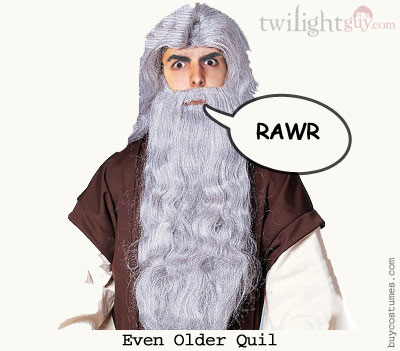 The Quileute legends were actually quite interesting. It gave me a bit more depth to their story, and also just how painful and tragic a history is behind the tribe. The loathing and hatred towards vampires runs so deeply within the werewolves that their very history is intertwined with it.
Imprinting is starting to make more sense to me now: and seeing the love between Jared and Kim seems to have cast a new light upon it. The beauty of imprinting is that no matter what Kim looks like, or how insignificant she may feel, Jared adores her more than anything in the world. It is almost the purest form of love between them: that he can love her for any fault she might have, and doesn't see any imperfection in her, because she was the one who was made for him.
Why does this remind me of Bella and Edward? I know I have said this before — how the truest form of love is showed by Edward in the fact that Bella is a plain, ordinary girl, and has so many faults, and yet he loves her more than anything; not in spite of them, but because he loves her just the way she is. There is a beauty to a love that is not based upon how someone looks, or how rich they are, or how many sweet words they might say. It is easy to understand why Bella loves Edward. What is harder to understand is why Edward loves Bella — it's because he doesn't love her for superficial reasons, he love her for who she is. In this same way, Jared has imprinted on Kim.
I read the passage from Wuthering Heights three times, in an effort to make it sink in, and on the third reading I realized who the characters were in this scene. Readers of my previous chapter post know that I'm having a hard time understanding why Edward lets Bella see Jacob, when they are supposedly in a relationship, and Jacob is obviously trying to jump between them. In one strange moment, I realized exactly what is going through Edward's head, and why he seems to have become a somewhat unstable ally with Jacob:
"I never would have banished him from her society as long as she desired his. The moment her regard ceased, I would have torn his heart out, and drank his blood! But, till then […] I would have died by inches before I touched a single hair of his head!"
I don't know about you, but I can clearly hear Edward's voice saying those words.
Question for the comments: would you rather be loved by a werewolf who has imprinted on you, or a vampire who loves you like Edward?
——NOTES——
– Thanks to the people at MuchMusic in Canada for mentioning my site! I don't get the channel in the US, so if anybody recorded the clip, I'd love to see it.
– So, the Twilight Youtube Contest Of Awesome was the #2 most commented video on all of Youtube for 2 days in a row. Way to go Twilighters! Since it's only been TWO DAYS (for crying out loud!) I'm sure the number of entries will continue to rise steadily, until I announce the winners (time TBA) 😀
Posted in Eclipse