Reading Breaking Dawn: Chapter 1 (Engaged)
March 30th, 2009 at 12:07 am by Kaleb Nation
The song for this chapter is Lifestyles of the Rich & Famous by Good Charlotte
[audio:https://twilightguy.com/wp-content/uploads/2009/03/lifestylesoftherichandfamous.mp3]
I can hardly believe that after almost an entire year of writing for TwilightGuy.com, I am finally reading the last book in the Twilight Saga.
I can still remember the weeks we waited for this novel in 2008. I remember the last two days especially, when the fansites were working overtime to squash the people who were posting spoilers. I remember staying up that evening to watch Stephenie read the first parts of the book at her release party online. And then, finally, the world could read Breaking Dawn.
Obviously, between Eclipse and the fourth book in the series, much has changed for Bella Swan. She has a new car. A new credit card. She even has a new set of rumors floating around town about her (as if she didn't have enough of those already). It's no wonder the townspeople can't stop staring at her. If you saw a teenage girl getting married to a 90-year-old man who showered her with expensive gifts, wouldn't you start to wonder what was really going on? When you think of how this sounds, perhaps it's actually a very, very good thing that Edward is a vampire and doesn't appear anywhere near his real age, or else the town would really be talking 😀
I think a lack of sleep caused my vision to be a bit blurry as I started reading, because when I read this line:
…in her minivan, Mrs. Weber had turned her whole torso in my direction. […] I tried to take some comfort in the fact that she wasn't really staring at me, just the car.
I instead saw the ending as
I tried to take some comfort in the fact that she wasn't really staring at me, just the cat.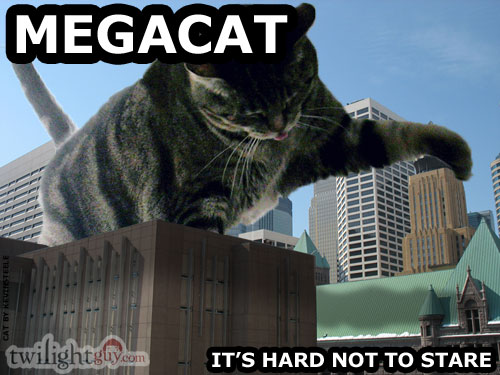 Which might have changed the story of this book quite a bit:
To be irrevocable in love with a vampire is both fantasy and nightmare woven into a dangerously hightened reality for Bella Swan. Pulled in one direction by her intense passion for Edward Cullen, and in another by her profound connection to werewolf Jacob Black, she has endured a tumultous year of temptation, loss, and strife to reach the ultimate turning point.

Then, the Megacat appears.

A creeping, monstrous creature of the night, the cat towers above the city of Forks, casting its shadow all across La Push and blocking the sun in what could only be a new form of an eclipse. It desires one thing before the break of dawn: that which terrifies Bella so, that which has held her sleepless for many a night; that which Bella refuses to give to any creature excluding a vampire or alternatively a werewolf.

Her life...bo

[Note to Stephenie: it was my idea first. Hands off.]
Stephenie refers to Bella's shiny black credit card on page 5 (for future reference, I'm using the hardcover book). Of course, being one who cares absolutely nothing for the frivolous lives of the rich and/or famous, I have never wasted my time looking these up. Since nobody cares anyway (and especially not me) I am probably boring the stuffing out of all my readers by saying that the Centurion Card is crafted from titanium and requires a minimum of $250,000 spent per year. Since no one is curious, I won't post any photos.
I find it hilarious that Edward got Bella a car that is primarily used by arms dealers, drug lords, and various other criminals:
But in a strange way I can sympathize with Bella and her new driving troubles. Not that I have ever driven a European* car that comes with its own paparazzi, but the ridiculous stopping and starting that one does when getting adjusted to a new vehicle you are not accustomed to driving. I can still remember the first time that I drove my grandmother's car instead of my mom's van (which I had done all my driving practice in). Obviously, my grandmother's brakes were newer, so that when I nervously made a turn at an intersection and lightly tapped the brakes, instead of slowing down I found myself stopped in the middle of the road completely. Then the light changed.
It's nice to see that Bella's mother supports her; and that at least Charlie isn't taking his gun after Edward. It did strike me as odd that no one has even put forth the possibility of Jacob's disappearance being Edward's fault. After all: Jacob loves Bella; Edward loves Bella; Jacob disappears; Edward and Bella get married. The obvious conclusion the Forks Police Department should have surmised from this is that Edward and Jacob had an old-style duel-to-the-death, the winner taking Bella's hand in marriage.
Still, it's wonderful to see Bella in her happy place at last, even though her best friend can't be there to share it with her. Or will he? I've never known Jacob to sulk away for too long, so judging the size of this book I expect there are plenty of surprises for me in the following chapters 😀
Question For The Comments: If you were Bella's parent, would you be happy with her getting married to Edward Cullen that young? Also, same question, but what if she was marrying Mike Newton instead?
——NOTES——
– After all the questions about what a Bound Galley is, I decided to actually show everyone on video:
* is this grammar fail? An European car? A European car?
Join mcts training to get guaranteed success in real exam. Our 642-642 study guide covers all the important topics that you need to learn for 640-553 exam.
Posted in Breaking Dawn
Tags: Breaking Dawn, Mike Newton