Reading Breaking Dawn: Chapter 2 (Long Night)
April 6th, 2009 at 12:02 am by Kaleb Nation
The song for this chapter is When They Came For Us by Shiny Toy Guns
[audio:https://twilightguy.com/wp-content/uploads/2009/04/whentheycameforus.mp3]
Surprisingly enough, the new web server switchover hasn't happened yet, because I'm still here (or am I?). I think everything is under control for now, but there will most likely be at least 6 hours of downtime around the end of this week. This is not a bad thing, actually. We discovered the root of the problem is that I posted my author photos yesterday, which prompted multiple thousands of people to hit KalebNation.com all in the same hour and overload the servers. I don't know about you, but there are some on this planet who are just too easily excited (not that I'm complaining 😀 ).
Before I begin this post I should probably warn everyone that I am extremely sleepy. In fact, just minutes ago I awoke suddenly and realized that I was not in bed, but was so tired I had fallen asleep at my desk. Now that you've been warned, you can't blame me for whatever half-conscious things I write in this post. But for now: the second chapter of Breaking Dawn can wait no longer!
I found it hilarious that Edward's shirt is on the floor the evening he is staying with Bella. What, does he just hang around with no shirt on anymore? Is he trying to pick up on some habits from Jacob Black or something? If anything, he could try that half-vest thing that Aladdin does. Even Scottie McMullet wears a scarf: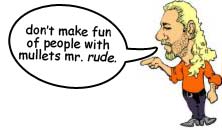 Some may laugh, but a 2-year-old vampire is quite a terrifying thought to me. I grew up in a house with four younger siblings, and have been through at least three two-year-olds that I can properly remember. If you've ever been around a toddler, you will know that temper tantrums come very often with no distinct pattern to their outbreak. Having a angry 2-year-old vampire would go something like this:
My younger sister: WAH.

Me: Here, take this toy.

Younger sister takes the toy, crumbles it into tiny shards, and throws the pieces at me like arrowheads.

Me, dodging: NO. Just watch television.

Younger sister picks up television, throws at ceiling and causes roof to cave in on me.

Me, gasping for life: NO. Are you hungry?

Younger sister: Actually, I'm thirsty. [looks at me]

Me: NOOOOOOoooooooooooo…
Now, imagine such mayhem and uncontrollable temper being set against an entire village that simply doesn't have enough toys to make the baby happy. You would have quite a bit of mayhem going on, not even considering the fact that this demon child also happens to enjoy the taste of the villagers blood.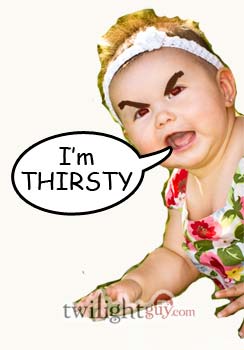 The wedding for Bella and Edward is beginning to loom: and that fateful day when Bella will be turned into a vampire gets closer and closer. I keep wondering what it would be like to be 18 forever. Eighteen for me wasn't exactly as epic as people in the movies make it out to be, partially due to me living in the middle of nowhere without a car. But still, 21 or even older seems like a far better age to get stuck as a vampire, just because you've gotten to experience a lot more human things you'd miss out on if you were a vampire. Because no matter how horrible and dull anyone's life is, humanity is something I'm sure will be missed at some time or another.
But then again, the difference with Bella and Edward is that they will have each other. I do wonder about them though. It seems so much that Bella thinks she can simply live with Edward and Edward alone, and she doesn't need anyone else. When you're in love it's so easy to think that: why in the world would you want anyone different? What would really be wrong with getting a deserted island and just living there with the person you love, without ever having to deal with anyone else or the mundane problems of the world?
It might all be a wonderful fairytale ending, but no matter how much Bella and Edward love each other, at some point they will need others. Edward seems to understand this. But for Bella, a normal high-school girl, it will be hard at some point for her to never be able to go out with her friends, or to have to avoid all the people from her high school forever — even if she finally has Edward.
The next chapter is called Big Day. Keeping in mind the grand mix of werewolves, vampires — and oh yes, even some boring old humans — who will be in attendance, I can only imagine how this wedding business will go 😀
Question for the comments: If you were turned into a vampire, what age would you want to be stuck in (any age, past present or future)?
——NOTES——
– Thanks for all the help picking my author photo! I'm pretty sure there was a resounding vote for a certain one, but I'll update when we have the final pick 😀
Posted in Breaking Dawn
Tags: Bella Swan, Breaking Dawn