Reading Breaking Dawn: Chapter 14 (You Know Things Are Bad When You Feel Guilty For Being Rude To Vampires)
June 5th, 2009 at 10:30 pm by Kaleb Nation
The song for this chapter is All Or Nothing by Theory Of A Deadman
[audio:https://twilightguy.com/wp-content/uploads/2009/06/allornothing.mp3]
This morning I discovered, much to my dismay, that June marks the fact that half of 2009 has gone by already, and that there are only 3 months and 11 days until I turn that glorious age of 21 on September 16 (if I hear one more thing about sharing Nick Jonas' birthday, I think I will randomly burst into flame). What has happened to the first half of this year? Where hath all mine time gone? I don't think I can answer that question. The closest question I can answer is as to what I have not been doing, such as keeping my room clean: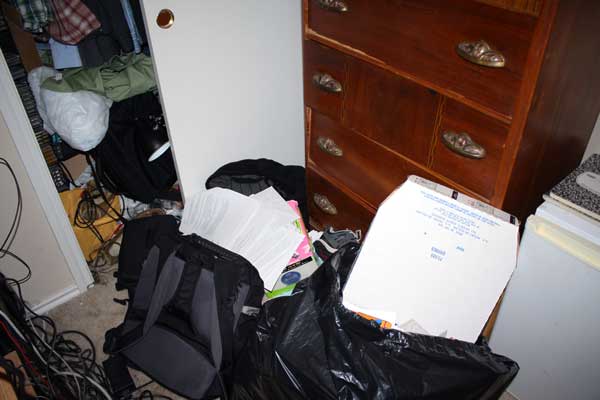 This photo was taken 2 weeks ago. It is still applicable, because hardly anything has changed.
When I showed this to one of my former roommates, he simply laughed and said at least I didn't have roaches and bedbugs. Oh course I'm lucky for that. I'm also lucky I don't have scorpions and goblins either. Oh the joys of college living.
To help ease my mind from such frivolous troubles, I do what I usually do, and push all the mess into the corner and do something else: namely, reading the next chapter of Breaking Dawn. Much to my enjoyment, this chapter starts off with some immediate lulz, because just imagining Jacob Black in a sundress is nearly enough to make me fall out of my chair. I wish that I could conjure up some sort of Photoshopped image of this, but for Taylor Lautner's sake, I will refrain and simply post the next best thing
Jacob makes a wonderful point about him and Bella: how her reaction to seeing him just makes it all the harder to stay away. He knows that she is married, and much to my dismay, he is actually trying to stay clear of her and Edward.
Finally, I get to see what is going though Jacob's head when situations like this come up. Jacob isn't so much sticking around so he can take advantage of any chance he has to steal Bella from Edward (though I have little doubt he would take this opportunity). Jacob seems to be staying simply because he, like Edward, values Bella's happiness above his own, which I hadn't really seen as his motivation as much before when I was watching from outside his head.
This interests me greatly, because the reason I've been annoyed at Jacob so much throughout these books is because he appeared to be so self-centered. But it seems as if Bella could just not want him around anymore, and he would retreat. The real reason he keeps coming around, and interfering with Bella and Edward, actually appears to be because Bella won't be happy if he leaves.
"If she would just not care… Or more than that–really not want me around. It would be so much easier to stay away."
So who really is to blame here? I keep asking myself this, and I have throughout the Saga after New Moon. It confuses me so much because there is no solution, and my rational brain demands one of this problem. There is a triangle with equal weight put upon all three people — Jacob Black needs to somehow find someone else to love, so that he will be happy; and in the process, be able to leave Bella happy, since she knows he will be alright.
I'm curious to know what other person actually told Rosalie the blonde joke about the mirror at the bottom of the pool:
Rosalie walks by.

RANDOM IDIOT: Hey! Know how to drown a blonde? You glue a mirror to the bottom of a pool!

-PUNCH- -YELL- -WHACK-

"That's what you get for those blonde jokes!" Rosalie snarled.
It makes me happy to see Esme and Carlisle actually trying to help Jacob and his rogue band of wolves out. I have a very good feeling about this eventually playing a huge part in bridging the gap between their two peoples.
QUESTION FOR THE COMMENTS: Do you think if Bella told Jacob to leave, he would actually do it, or would he continue to stick around trying to get her back?
——NOTES——
– Kimmy from HisGoldenEyes.com had her Twitter account suspended for no reason, so she made a new one which you can find at Twitter.com/KimmyMary. If you were following her, help her get back all her former followers!
Posted in Breaking Dawn