Reading Breaking Dawn: Chapter 15 (Tick Tock Tick Tock Tick Tock)
June 10th, 2009 at 8:04 pm by Kaleb Nation
The song for this chapter is Rebirthing by Skillet

[audio:https://twilightguy.com/wp-content/uploads/2009/06/rebirthing.mp3]
After being greatly amused that it is considered national news when Stephenie closed her Myspace* I have come to the conclusion that the entertainment industry at large will now report on any and all stories that contain the words Twilight, Stephenie, Meyer, Robert, or Pattinson. I figure if I drop those words into one of my posts enough times, I will come up on the Entertainment editors' Google alerts and get featured.
The title of this chapter has led me to believe it is about one of two things, each of the Ticking and Tocking variety and both featured in the following illustration: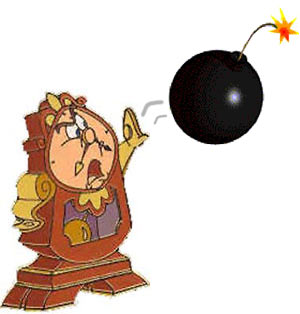 Though, I assume the Ticking and Tocking has more to do with Bella's child's impending birth. This whole pregnancy for Bella is going by awfully fast, and it makes me wonder if she is even ready for what is about to happen. Edward is in total disarray, Jacob doesn't even know how to feel anymore, and for the past uncountable days the entire Cullen household has either been sitting beside Bella, behind the couch, upstairs or in hiding. I honestly don't know what to expect either. With all the intensity surrounding this child, and the mystery of what form it will actually take, Bella and Edward's lives will never be the same again, and even more so changed than any normal couple's lives would be.
I have wondered for a long time exactly how Bella will break the news to her dad that she has turned into a vampire. I have tried to imagine how this might go down if I was to try to let this secret out:
ME: Hi! Guess what! I'm a VAMP'R!

FAMILY MEMBER [wielding crucifix]: SPAWN OF SATAN! Go back to the Shadow!
But honestly, it's going to be very hard on Charlie whatever happens. If Bella finds some way to lie out of it, what is she going to do then? Stay out of the country for the next 40 or so years until her parents die? That would just be horrible. It leads into the question that many people (unfortunately, most commonly those who are in the Twilight haters community) have voiced about Bella and Edward: is Bella ready to give up everything and everyone she has ever known, just for Edward? Love and butterflies aside, is that a healthy relationship?
I can see the Team Jacob people giving a bit of a cheer here, because we all know if Bella had chosen Jacob, she wouldn't have to lose anyone, and she would be able to continue her life as a human, and have children and friends and family. In that sense, it would be much easier — but would it really be better? Romeo and Juliet had to die to be together — Edward and Bella must live forever to be together. Do we consider Romeo and Juliet's love any less tarnished than Bella and Edward's, even though the latter isn't exactly (technically) suicidal?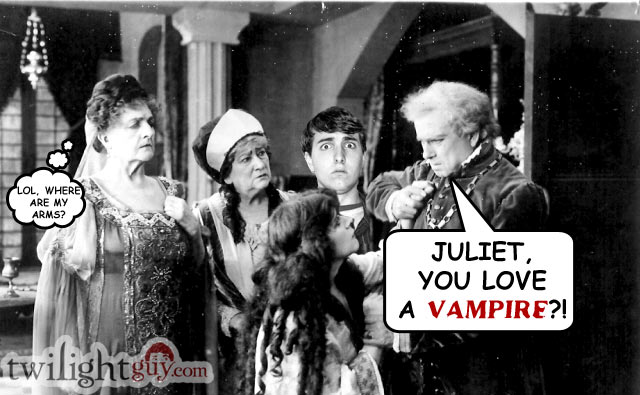 I always found it oddly interesting how blood is actually provided to doctors for their medical use. According to Seth, since Carlisle is a doctor, he can actually go somewhere and buy blood. What sort of a job is that? Who actually signs up to be a blood salesman? How do you sell blood? Are there specials and prices and different levels of how pure a blood is for each doctor? What about Frequent Customer Appreciation Plans or coupons like Buy-1-Pint-Get-Another-Pint-Free? I am thinking this out way too much…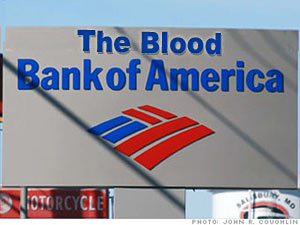 QUESTION FOR THE COMMENTS: Do you think that Bella has carefully weighed what will happen, or is she blinded by love and forgetting all the consequences of becoming a vampire?
——NOTES——
*actually, not so laughable: Stephenie had more friends than Lindsay Lohan
– This week's a busy one (we're getting ready to close on my book, so I have to do lots of finalizing things!). This is why my posts are shorter and farther between.
– I'm announcing the Summer School In Forks contest winner very soon. They'll be contacted by email too.
– By the way, I just uploaded a new song to my YouTube channel, which you can also download for free:
Posted in Breaking Dawn
Tags: Jacob Black, Myspace, Stephenie Meyer