Reading Breaking Dawn: Chapter 13 (Good Thing I've Got A Strong Stomach)
June 2nd, 2009 at 5:24 pm by Kaleb Nation
The song for this chapter is Sorry by Buckcherry

[audio:https://twilightguy.com/wp-content/uploads/2009/06/sorry.mp3]
Oh jetlag: how you plague me. I am writing this from my bed, with Breaking Dawn propped up on one side and my laptop on the other. Two weeks is far too long to go without reading, even with Book Expos and Disneyland. I promise, I have NOT been avoiding Breaking Dawn because I am fearful of the impending blood drinking scene. That would be totally unlike me, because I am not at all sickened by the thought of drinking blood, and I am completely comfortable with the idea of watching Bella consume it in deep, bloody detail.
But for serious, the past two weeks have been a whirlwind, and I've barely had time to eat, much less blog about anything. It is here that I must warn anyone reading this post that I am still suffering from severe jetlag, having hit both the west and east US coasts in one week, taken four flights and stayed up past 3 AM last night waiting for the YouTube maintenance to end so I could upload the New Moon teaser trailer in its full, sparkling HD glory. So, if I only make half the sense as usual, crack the worst jokes, and call Jacob by the wrong name (like Timnkumbodle Bandersnatch?) you now know why (and will feel no obligation to report me to St. Rita's Hospital For The Mentally Deranged).
Where we left off last time, Edward and the Vamps were headed off to get Bella some blood to drink. As stereotypical vampire as that sounds, it is probably one of the better ideas that they've had so far, though one I find hard to imagine without wanting to clutch my stomach. Do they just open a spigot and pour some out for Bella? If it's in the house, how do they resist the smell? And what happens if an outsider stumbles upon said barrel?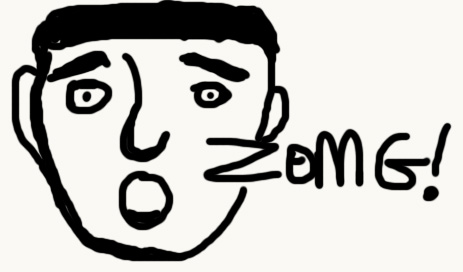 The most shocking thing about this could be some of the comments left on my last post regarding the blood-drinking thing. The mothers who told me things similar to "wellllll when you're pregnant you crave some pretty strange things!" do not put my fears in a happy place. So I am leaving myself to assume that the comments were meaning 'pretty strange things' as in 'Olives in chocolate ice cream and pretzel sticks' and not what Bella seems to be craving.
I didn't really need to read the line about Carlisle and Rosalie wondering if they should warm the blood up for Bella. I am thankful though that Edward thought enough to have Rosalie put the red liquid into a cup that was not clear. This episode of distasteful drinking brings back glorious childhood memories during my mother's health craze. There was one specific thing she had me drink which we had aptly titled the Concrete Drink, because the liquid was so gray, powdery and lumpy, it very much resembled a freshly-mixed cup of the unhardened gray rock. To drink it, I had to close my eyes so that I didn't have to look at the awful concoction before gurgling it down. *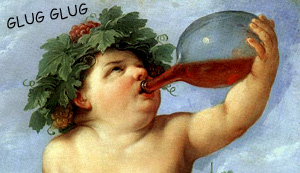 I do understand the connection though: since the vampire baby is growing inside of Bella, naturally it will want nourishment, like any womb-inhabiting child does anyway. But since the child is vampiric, it seems to basically be starving through lack of blood: or perhaps, feeding off of Bella herself. Of course Bella will like the taste of the blood: it is what her child needs, and what her body has been telling her to ingest in order to keep the child alive. Grossness aside, they're actually all on the right track here.
There is some obvious tension between the werewolves that has already started to split up their families. Of course none of them really want this, but there is a very big power struggle between Sam and Jacob now that can't simply be resolved by delaying the attack on the Cullens. Now that Jacob is on his own, he wants to be his own boss.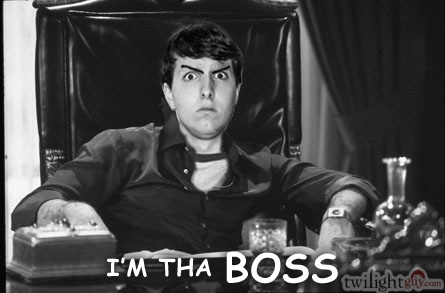 And oh Jacob Black, and your obvious lack of clothing. It simply isn't enough to just go without a shirt now. I'm sure it was completely and utterly unintentional for you to shred all your clothes and suddenly be forced to walk around without them 😀
QUESTION FOR THE COMMENTS: Now that you have seen the New Moon trailer and Jacob turning into a werewolf, does it change how you picture it in the books?
——NOTES——
*however, remembering the Concrete Drink suddenly makes Bella drinking blood not all that gross. YES it was THAT BAD.
– I am ALMOST to 30,000 subscribers on my YouTube channel! As promised, I will be giving away epic prizes, including a hardcover copy of TWILIGHT autographed by Stephenie Meyer (and more)!
Posted in Breaking Dawn
Tags: Jacob Black, New Moon Movie