Reading Breaking Dawn: Chapter 12 (Some People Just Don't Grasp The Concept Of "Unwelcome")
May 21st, 2009 at 12:05 am by Kaleb Nation
The song for this chapter is Better Than Me by Hinder [suggested by Krystol]

[audio:https://twilightguy.com/wp-content/uploads/2009/05/betterthanme.mp3]
What a week this has been: the first for me of summer break, and a whirlwind nearly the entire time. After the glorious revelation of the first poster from the New Moon movie, I received a comment that went something like this:
OMG i screamed! i make out with my twilight poster every day and now i have new moon poster to kiss!!!!!
after which I considered dialing the nearest psychiatrist and recommending the commenter posthaste, though restrained myself in the hopes it was written in a fit of fangirl excitement. If I was Robert Pattinson, I think I would run for the nearest cave I could find — deep, deep in the deepest of woods.
Speaking of the woods, Jacob Black seems to be stuck in some woods of his own now. In the last chapter, he basically decided to strike out on his own in defiance of the pack, and as I expected, Seth tagged along with him. I've been wondering what Jacob's actual plan is now, or if he even has a plan at all. I mean, now that he is basically defending the Cullens, is he willing to fight against his own people? That might be what it comes to, depending on how deeply committed he is to keeping Bella safe.
That is, of course, if there is anyone left in Sam's pack for him to fight. Leah didn't take too long debating whether to leave Sam behind. So far Jacob has managed to sway two werewolves to join him: and that is in spite of him telling both of them to hit the road. Frankly, Jacob would be a horrible army recruiter.
"No you're not. Turn around before I rip out one of your hamstrings."
Good job Jacob: that's the perfect way to build up soldier morale.
Strangely enough, it seems to work. Sam's army has been reduced by three already, which is definitely going to make him think a lot harder about his plans to attack the Cullens. As of now, he's far outnumbered, and that's with three werewolves and a hoard of angry vampires as opponents. With all their strength and brute force, I don't think the werewolf pack can actually stand against what's coming to them during that battle.
In this chapter and the previous, I've noticed that Jacob has extremely sharp senses. Almost unbelievably so. He is sitting on the porch of the Cullen's house, far away from wherever Bella is, and he can actually hear the uneven beats of her heart? Those are some insane ears he has, or Bella has an unusually loud heart.
Like Jacob, I have very little biological knowledge, and long-time readers of my site will know the various bouts I have fought against my biology textbooks (though in fact, with my grades just posted this week, I found out I passed the class far better than I had expected — hooray!). So when Carlisle starts talking about chromosome-this and amniotic-fluid-that, I find myself yawning and getting distracted. I wonder though, since humans have 23 chromosome pairs, and werewolves have 24, and vampires have 25, if somewhere along the line this would become a good playground insult: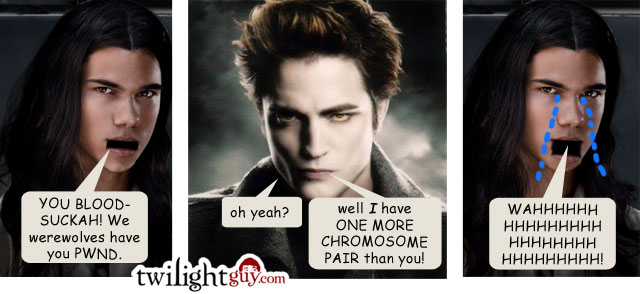 And pardon me whilst I clasp a firm hand over my mouth when they suggest having Bella drink blood. I don't know about you, but this is not at all appealing (to those of you to whom this sounds appealing: GO. SHOO. BACK TO YOUR GRAVE). It is not that I am terrified of the sight of blood. But is Bella actually willing to drink it down? Is that even rational healthy? Strangely enough, Bella seems to have no qualms with the thought. Perhaps it has something to do with her being recently married to a vampire?
QUESTION FOR THE COMMENTS: If you absolutely were forced to choose, would you rather LEAH or SETH in your wolf pack?
——NOTES——
– I will be gone again this weekend and thus there will probably be no posts between Friday and Tuesday.
– Bailey (nomoremarbles) and I have a LIVE BlogTV show TONIGHT (May 21) where we will be giving away TWO passes to Twicon. I'll post the time and location on my Twitter as soon as I know!
Posted in Breaking Dawn
Tags: Jacob Black