Reading Breaking Dawn: Chapter 17 (What Do I Look Like? The Wizard Of Oz? You Need A Brain? You Need A Heart? Go Ahead. Take Mine. Take Everything I Have)
June 19th, 2009 at 5:45 pm by Kaleb Nation
The song for this chapter is Shape Of My Heart by Sting

[audio:https://twilightguy.com/wp-content/uploads/2009/06/shapeofmyheart.mp3]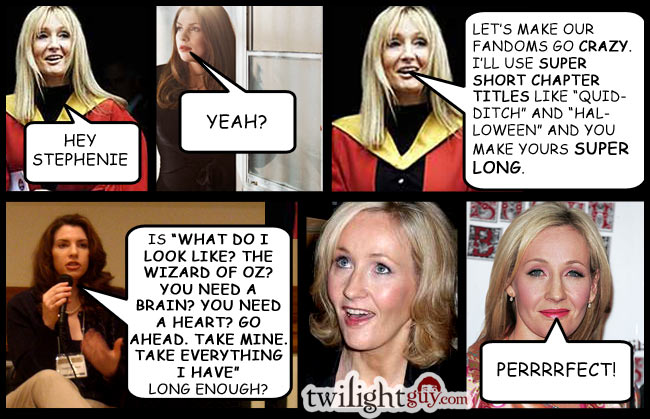 I am slowly becoming convinced that the above illustration is an accurate representation of how these chapters got to be named. I'm actually quite enjoying these long chapter titles, despite the fact that they span multiple lines across my screen and thus utterly ruin my site design. Since this long chapter title thing seems to be a quirk that isn't disappearing anytime soon (at least until Jacob Black learns to control the length of his thoughts) I examined some other books, trying to find their longest chapter titles. The longest chapter title in THE GRAVEYARD BOOK by Neil Gaiman is the first, "How Nobody Came To The Graveyard"; in THE GOLDEN COMPASS by Philip Pullman, it is the last chapter "The Bridge To The Stars" (for those wondering, the longest chapter title I've written was "Sewey Wilomas Versus The Oncoming Train"). If there was a Longest Chapter Contest, Stephenie would surely have us all beat.
Edward has a wonderful variety of cars to choose from, and even though he's probably mostly known by his Shiny Silver Volvo, the Aston Martin Vanquish is the one I'm most interested in. For those of you who don't research much about the cars in this book, the Aston Martin Vanquish was the official car of the James Bond film Die Another Day, discontinued in 2007, and generally costs about $129,000. "BUT WE DO NOT CARE ABOUT THIS FRIVOLOUS INFORMATION," I see many of you shouting. "EDWARD CULLEN DRIVES IT SO THAT MAKES IT TEH HAWTNESS."
Jacob had better not carry out the second part of his plan and crash this car, or he's going to be in a bit of trouble trying to pay that off (you know, the whole, you break it, you buy it rule?). I'm sure it would also be a very interesting situation if Charlie happened to be patrolling that day, and caught Jacob going 200 MPH in Edward Cullen's Aston Martin Vanquish.
CHARLIE, strolling up to window: Hello sir, you were going 200 in a 60 mile p–JACOB BLACK, WHAT ARE YOU DOING HERE?!

JACOB: Sorry Charlie. I can explain everything. Edward Cullen, mortal enemy of my werewolf people, gave me the keys to his $129,000 car so I could get away from the drama surrounding your daughter, who I still love despite her marrying a bloodsucker, and the painful birth of her vampire-slash-human baby, who is currently eating her from the inside out and forcing her to drink little cups of blood.

CHARLIE: Um. Can we back up to the the $129,000 car part?
I think that going on a soulmate-search is perhaps one of the best ideas that Jacob Black has had in a long time. If I was a werewolf, and I knew that there was some way to KNOW for sure who my true soulmate was, I would not be able to rest until I had crawled the world for this person. It is just insanity for him to stick around Bella, knowing that he will never imprint on her, and somewhere out there is someone for him — so much, that this 'imprintee' might even make him forget about Bella immediately. It's like magic. As soon as he find her, all this pain will be gone.
However, as if to challenge what I just wrote, Jacob then says:
Magic wasn't going to save me. I was just going to have to take the torture like a man. Suck it up.
Or perhaps Jacob, you just enjoy wallowing in your sorrows instead of sucking it up and going somewhere other than where Bella is. Whoops. I think a werewolf just ripped my head off.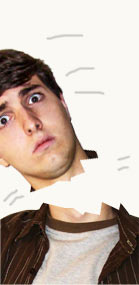 I find it interesting how Edward was able to somehow find a way to keep his treaty with the werewolves and at the same time, find a way to save Bella's life. Jacob is the true Alpha of the pack, so Edward doesn't really have to ask Sam or the others about this. And when it comes to Bella's life being at stake, it might end up being the only way for her to stay alive (as alive as she can be considered as a vampire, that is). But will Sam and the others really accept this? They don't accept Jacob's leadership, so even though he has the right, I have strong doubts that the other wolves will just give in and let him have it his way.
And oh, what a wonderful image to leave me with as I finish this chapter. A fountain of blood you say? Good thing I stopped eating snacks while reading Breaking Dawn.
QUESTION FOR THE COMMENTS: Regardless of what ACTUALLY happens in the rest of the book, if Jacob imprinted on another girl (for example, one of the mall girls) do you think he would really be able to leave Bella, or is his love for her too powerful even for imprinting?
——NOTES——
– My big trip to Forks, WA for Summer School In Forks is coming up! I leave on Wednesday, which means I will have a hard time getting to my computer, and posts will be less than usual. But I shall return with photos and cool stuff!
Posted in Breaking Dawn
Tags: JK Rowling, Stephenie Meyer