Reading Breaking Dawn: Chapter 18 (There Are No Words For This)
July 6th, 2009 at 3:02 pm by Kaleb Nation
The song for this chapter is Dead But Breathing by Lesley Roy

[audio:https://twilightguy.com/wp-content/uploads/2009/07/deadbutbreathing.mp3]
Finally: a week where I'm actually not flying in or out of the west or east coast! Seriously, I have so much jetlag right now the keys on my keyboard are looking a bit fuzzy. But it's back to Breaking Dawn, and what could possibly be the shortest title in a long time (it actually fits in less than three lines! Hooray! Huzzah!). Where did I leave off? Oh yes — Bella just vomited a fountain of blood. How could I forget?
Blood isn't exactly a big fear of mine, but like most sane human beings I'm not good around lots of it. Bella is obviously coughing up a LOT of blood (the word 'fountains' is probably one of the best/worst/most-discomforting mental images associated with this). But forget about me: what about poor Edward and Rosalie? It's like putting a sugar addict in a candy store and handing them a big fat card that says "SHOPPING SPREE. EXPIRES: NEVER. GOOD FOR: EVERYTHING". Why even call Carlisle — all that blood could be smelled by every vampire within miles.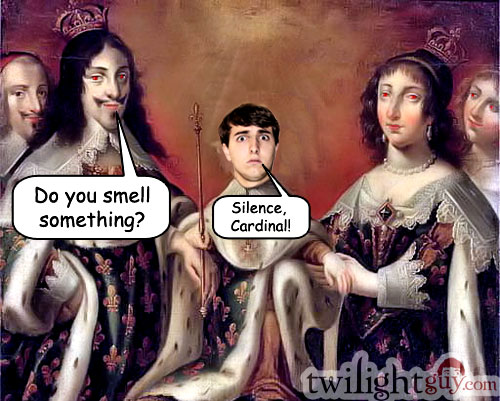 Good for Jacob: he finally has an excuse to attack Rosalie. She kinda needed it from him sometime 😀 . Not that she really wants to fight. It's hard to imagine just how overwhelming the thirst for blood must be for Rosalie, to know that if she loses control she would kill Bella and the vampire baby she's so crazy about. She seems to understand this but also understands that it's nearly impossible for her to fight it. My feelings go out to the Bluetooth that was in her ear when Jacob threw her against the wall.
The transformation of Bella into a vampire was something I never, ever expected to happen in this chapter. I thought for sure it would be later, perhaps at the end of the book, so when Edward injects her with the venom and then finally bites her, I find myself at a loss. It must be realized that since Twilight, the first book, Edward has resisted all temptations to change Bella. It has been the constant struggle throughout all the books, so that if he had transformed her in the first a lot of problems might have been averted throughout. When he changes her, it's almost a miniature climax of all that has happened so far between Bella and Edward.
It leads me to ask the question of "why now?". Bella has been in danger many times before, and yet Edward didn't want to change her then. Is this situation so much more life-threatening than the others? Or did all of her blood spilled around the room just become too much for Edward, so that the intoxicating smell played with his judgment, and made the idea of changing her not so difficult? I am under the impression that it is a mixture of them all: but more so the fact that Bella, who previously survived an assortment of clumsy disasters, was actually on the brink of death and wouldn't survive if Edward had not done something.
I find it interesting as well that when Bella's child is born, and Bella seems dead, that Jacob suddenly appears to lose interest in her. What was he in love with? I've asked myself this question a lot in the past few chapters of this book. Is it just because he finds her beautiful? Intriguing? Confusing? Was he suddenly repulsed by her when she was covered in blood in front of him, or did his love disappear the moment she became a vampire? It's as if in an instant, she doesn't dazzle him anymore.
I can only imagine what it must mean to Jacob when Bella is bitten by Edward. He didn't even seem too phased by the wedding, as if he didn't actually believe in the marriage or thought somewhere in the back of his mind that there still might be hope for him stealing Bella away in the future. But Edward biting Bella seems to be something different, even deeper than the marriage — something more eternal, that no matter what Jacob does, he will never, ever get her now, because she is truly, and only, Edward's. They are now eternal. Jacob will die one day, and Bella will go on living after he is gone. His time with Bella is now a tiny speck in comparison to how long she will be with Edward. Thinking about how unimportant he seems to be now, I don't blame Jacob at all for wanting to bleach his brains.
ADDED: In response to a bunch of comments below, I did NOT miss the last paragraphs of this chapter. But since it left in a cliffhanger it's nearly impossible to comment on that part until I return to the scene and find out what exactly happened (probably in the next chapter?).
——NOTES——
– Because my life is about to get super busy with promotion for my novel, I am doing a Breaking Dawn marathon! With all my travel this month, I have gotten behind, and the time has come to catch up so I can finish before September 9. My posts might be shorter but I'll read a lot more in the coming weeks 😀
Posted in Breaking Dawn