NEW MOON Soundtrack Release Date Moved!
October 13th, 2009 at 12:34 pm by Kaleb Nation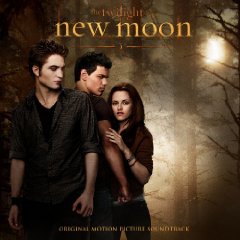 I just got back from Utah to this wonderful news: the official NEW MOON movie soundtrack release date has just been moved up! From Summit:
THE TWILIGHT SAGA: NEW MOON SOUNDTRACK
NEW RELEASE DATE: FRIDAY, OCTOBER 16TH
Due to overwhelming and unprecedented demand, Chop Shop/Atlantic have announced a new release date for THE TWILIGHT SAGA: NEW MOON ORIGINAL MOTION PICTURE SOUNDTRACK. By far the most anticipated soundtrack of the year, the compilation will now be released this FRIDAY, OCTOBER 16TH, four days earlier than originally scheduled. Last year's TWILIGHT SOUNDTRACK debuted at #1 on the Billboard 200 and has sold more than 3.5 million copies worldwide. It has remained on the Billboard 200 chart for 48 consecutive weeks.

The Twilight Saga: New Moon hits theaters nationwide Friday, November 20th.

For more information, visit www.newmoonthesoundtrack.com and www.newmoonthemovie.com.
Posted in New Moon Movie