The Twilight Saga: Eclipse DVD Release Date – December 4, 2010!
September 13th, 2010 at 1:53 pm by Kaleb Nation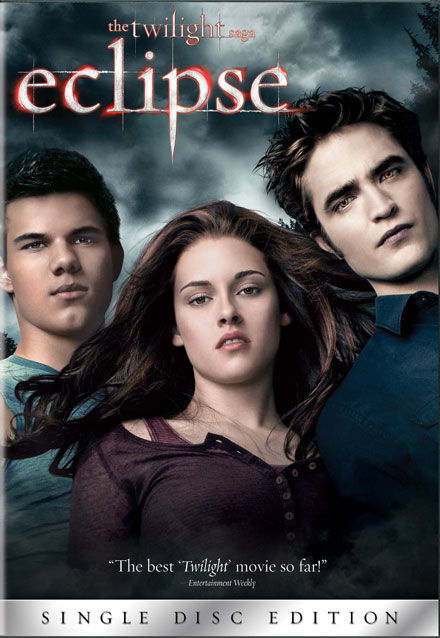 Just got some info from Summit Entertainment about the DVD release date for the ECLIPSE movie!
THE TWILIGHT SAGA: ECLIPSE DVD/Blu-Ray hits shelves December 4, 2010! Not only will you be able to own the movie nationwide that day, but you can also get every available special feature (including audio commentaries w/ Robert Pattinson, Kristen Stewart, and Stephenie Meyer) in one place when you buy the 2-Disc National DVD or the Blu-ray/DVD Combo!
Summit also let me know about two other big announcements:
MUSIC VIDEOS AND PERFORMANCES FROM THE TWILIGHT SAGA SOUNDTRACKS, VOLUME 1

This unprecedented release features a collection of music videos and live performances from bands featured on the Billboard Chart topping soundtracks from The Twilight Saga: Twilight, New Moon and Eclipse. Connect with the artists as they perform the songs that channel the emotions of Twilight fans through music. Enjoy original music videos and never-been-seen live performances all on one release.

DESTINATION FORKS: THE REAL WORLD OF TWILIGHT

Over 250,000 fans have made the pilgrimage to Forks to breathe in the reality that inspired Stephenie Meyer's epic saga – have you?

Destination Forks is a must-have for any Twilight Saga fan. Divided into three segments: Twilight Tour, Moods of Twilight, and Twihards, each segment is a unique journey that takes you deeper into the real world Twilight universe.

• In Twilight Tour cruise through the actual streets of Forks, Washington stopping at the real sites, homes, and businesses as highlighted in the Saga.
• In Moods of Twilight take a virtual walk through the mystical woods, mountains, rivers, and other gorgeous locations of Forks & La Push.
• In Twihards travel around the globe and meet the real life people that make up the greatest fan community in the world.
Pass your 220-701 exam in first try using mcp dumps and 640-863 study guide.
Posted in Eclipse Movie