Reading New Moon: Chapter 1 (Party)
July 14th, 2008 at 12:05 am by Kaleb Nation
 The song for this chapter is Iris by Goo Goo Dolls (suggested by Deby A.)
[audio:https://twilightguy.com/music/iris.mp3]
I almost didn't post today, fearing that three posts in a row might make people think I was forming a new habit, an expectation I would never be able to keep up with thanks to my impending deadline and already up-till-3AM days. However, the pull of New Moon was much to strong: and thus I embark into Chapter the First anyway!
My absolute first thought upon opening the first chapter of New Moon is: I am ninety-nine point nine percent sure I have read this before. I honestly can't explain it, but somehow between 2006 and now, I have picked up this book and read the beginning of the first chapter. Maybe one of the many times I was standing in a bookstore, just paging through the YA section, and just picked up New Moon on a whim. Or I might have read it as an excerpt off Amazon.com sometime. Either way, I recognize it like déjà vu. And it is very interesting to think that sometime, long ago, I actually read part of this novel: having no clue at all what it was.
The first scene of this book has instantly drawn me in: beautifully written, so much that I didn't even expect what would happen, even with that feeling that I've read it somewhere. Like the ending of Twilight, the thought that Bella the human could grow old while leaving Edward the vampire as 17 is startling: especially to them. Is it more frightening to Bella, that she must age and leave Edward the same; or for Edward, that she will die someday and leave him behind, alone again?
And, I must remind Bella, eighteen is not quite that old. If she thinks eighteen is old, and I am nineteen…where does that leave me?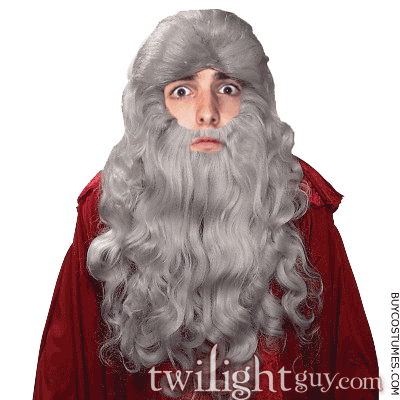 AHAH! Stephenie said 'Moot Point' again! If not for me, that phrase might go entirely unnoticed by everyone reading, but thanks to my previous encounters with the phrase, you all might be pleased to recall my possible definitions to it, including Davy Crockett's favorite pose (the Moot Point) and the latest scores in a game (due to the coach tripping the referee with a chocolate goose, the opposing team was given one Moot Point). I am nearly certain there is some story behind Stephenie's attraction to 'moot point' just as my unintentionally common usages of the words 'abysmal' and 'abhor' and 'rot' probably do not go unnoticed.
Anyhow, enough of my silliness. The Volturi immediately leapt out at me: who are these vampires that I've heard about, and now finally have a name? And how is it that by making them angry, they can kill vampires? I have little doubt as the book unfolds I'll be seeing more of the Volturi.
And, Alice…
"No presents," I protested in a mumble.


She finally seemed to process my mood. "Okay…later then. Did you like the scrapbook your mom sent you? And the camera from Charlie?"
Show off.
While reading my new book (which, unlike my edition of Twilight, is hardcover) I discovered a new use for a cell phone: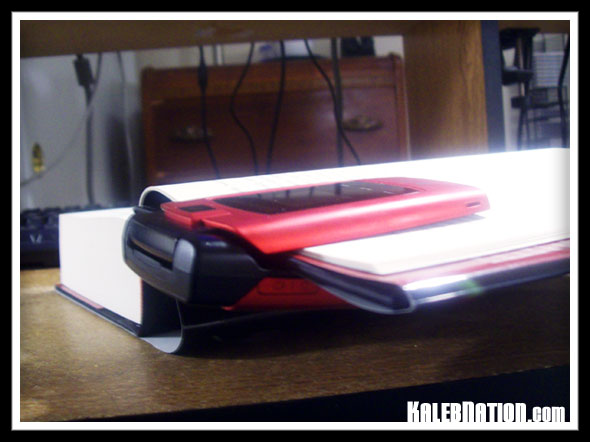 Cell Phones: Good for Holding Open Books
One thing that I think should be done soon, if not immediately, is to find a name for Bella's truck. After all, that old red thing has survived many a season, and now on top of that, it has 'personality' as Bella puts it (which almost seems like an excuse for a shower of rust when closing the door). How can such a thing not have a name?
Back in the olden days, people would name their cars, like Dashing Hopes or The Fiery Carriage. I, coincidentally, name most of the cars in my writings: and if another author leaves out a name for their vehicles, I usually go right ahead and name if for them myself, as they obviously simply forgot (what author would not name their cars?). Bella's old truck might be the Rusty Bucket or Bloody Awful Noisemaker… anyone else have suggestions? (ADDED: Other than The Thing, which I don't think has yet been passed as its Official Name 😉 )
As I got to the end of chapter one and saw Bella opening her gifts, I instinctively allowed my mind to relax. After all, nothing bad usually happens when one is opening their gifts. Wrong. After Bella cut her finger, that tiny drop of blood: I can see the entire room immediately tense up.
I was so happy to see the vampire action right up in the front of this one. But oh the torture! Leave me hanging so much at the end of the first chapter? Sheesh.
——NOTES——
– I just cleared out all the old song suggestions from Twilight: now everyone can start suggesting songs for chapters in New Moon (obviously, somebody was ahead of me, and already did for chapter one- one of the songs that didn't make it for the Twilight Song :D). Send them in over here.
– Emails coming to those who sent them! Also, everyone who's asked for a preview of my book: I'm working on it. I have your emails but I'm still way behind.
Posted in New Moon
Tags: Kaleb Nation, New Moon, Stephenie Meyer, TwilightGuy