Reading New Moon: Chapter 2 (Stitches)
July 17th, 2008 at 12:05 am by Kaleb Nation
The song for this chapter is Vulnerable by Secondhand Serenade (suggested by Ana)

[audio:https://twilightguy.com/wp-content/uploads/2008/07/vulnerable.mp3]
There was a group of people keeping up with the odd and unusual snacks I would have while reading Twilight, and now you can add tacos to the list for New Moon. In fact, as I move on into chapter 2, my room smells with that delightfully spicy aroma, as I have it still steaming on the plate as I continue munching onwards into Chapter 2.
Before I was so cliff-hangingly left off, Bella had somehow managed to turn a tiny paper cut into an all-out, glass covered wound, a feat only accomplish-able by herself. Every vampire in the room, understandably, tensed at the sight of blood, most of them having to immediately go outside with Jasper as he fought them to get at Bella.
Jasper seems to be the weakest of them all when it comes to being a vegetarian, harder for him to fight against the innate yearning for human blood that the others find easier to resist. Seeing the struggle that even Emmett has when trying to control him, I'm sure any animal would feel at least slightly uncomfortable venturing near their hunting grounds.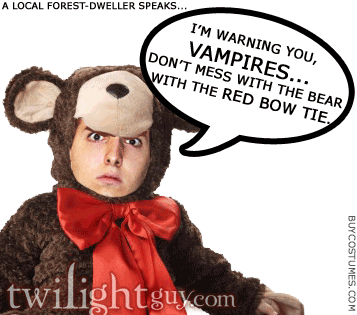 I have been intrigued by Carlisle since Twilight, when they visited his office and Bella heard the story of his life. I had completely overlooked the fact that being a doctor, Carlisle would be forced to be around blood many times a day. He has built up a significant amount of resistance to it, so that even when Esme and Alice must leave the room, he is still able to stay and help Bella, like he does with his own patients.
Reading on Edward's past was rather interesting, as I have been wondering the depths of it since Twilight. It is easy to forget that at one time, Edward was a human, and had real parents who died humans as well. Who were his parents, and what were they before their deaths? How did Edward's mother seem to know that Carlisle was a vampire? It seems very odd and it leads me to wonder if there is more behind it (or again, I'm reading a bit too deep).
It is also rather interesting to hear Edward's beliefs on life after death. It seems to speak that he believes himself to be a monster, a soulless creature that is simply there and an abomination of sorts simply through his existence. This extends Edward's fear for Bella becoming a vampire even further. Not only does he fear for what could happen to her now, but he also believes that it will rob her of her soul. I think I'm beginning to see that there is a bigger picture: Edward, most of all, does not want to be the one responsible for hurting Bella in such a way that is irreversible.
On another note, like Bella, I was beginning to get rather curious as to how Mike Newton kept popping up in conversations with Edward. Mike Newton this. Mike Newton that. Finally, it comes out: Edward sees Mike as a safer, more normal guy than he is; a non-vampire who would be better for Bella than him. Bella, however, puts it all to rest:
"I'd rather die than be with Mike Newton," I protested. Then, crossing her arms, she continued. "Better yet, I would rather be doused in water, then locked into the trunk with a basket of singing serpents, then run over by a freight train and monster trucks, then passed through a scrap metal machine with eighty-five gears stretching me like taffy; rather than be with Mike Newton."
Come now Bella. Mike isn't really that bad, is he? 😀

I will be getting to the next chapter as fast as I possibly can. I know I keep saying that and then spreading days between them, but unfortunately this happens to be the busiest two months of my life so far! I'll be speeding through some more soon. And, I've got some stuff you might like right after August 3 is up…
——NOTES——
– Please do not send song suggestions to my email: use the form (link at the bottom of the right sidebar). I can't answer all those emails about the songs, so they don't get sorted right and I don't get them on for the song picks.
– If you haven't already, please read the new notice about commenting.
Posted in New Moon
Tags: Kaleb Nation, New Moon, Stephenie Meyer, TwilightGuy