Reading New Moon: Chapter 4 (Waking Up)
July 23rd, 2008 at 12:05 am by Kaleb Nation
The song for this chapter is Where'd You Go by Fort Minor

[audio:https://twilightguy.com/wp-content/uploads/2008/07/wheredyougo.mp3]
Somehow, I have gotten hooked by New Moon within the first few chapters. When I should be working to cure my editingosis I am actually reading this book and wondering: have Edward and Bella really parted ways for good?
Time passes: the first two words of this chapter seem brutal and sharp in contrast to the flowing paragraphs Stephenie has written before. The thoroughness of Edward's disappearance has left Bella's life in that state.  There isn't a trace that he was ever there, as if all that happened in Twilight and in the first three chapters of New Moon were just something that Bella imagined. After paging through the months, I am reminded of the way Bella was at one time, in the beginning of Twilight. It is like taking a time machine. I remember this Bella: sullen, quiet, just as she was before Edward.
With the months that have passed, however, it feels like the pain of Edward leaving has turned into a numbness. It's like a constant ache to Bella that is so strong eventually she might forget about it being there.
I shuddered when Bella pulls out that calculus book. What a misery. I'm taking calculus this next semester, and being one who absolutely abhors all things involving the mathematics (besides adding royalties and paychecks), I nearly fainted flat when I discovered I have two courses of it. Oh joy (oh rottenness). Bella sums up my thoughts exactly:
Reading math was even worse than listening to it.
For some reason, when Bella asked Jessica who she had recently been out with, my eyes swept across the page, and I thought that Jessica had said she was out with a Yankie, instead of Eric Yorkie. Weird. Then, lo and behold, they head on off to get some food, passing by One-Eyed Pete's: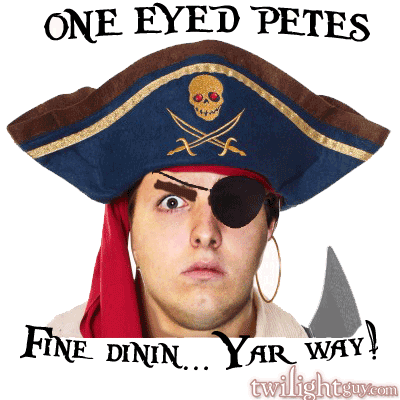 The struggle that Bella goes through to get over Edward seems torturous. While she knows she will never get over him completely, the only way she can move on with her life is to move past what is gone, and leave the memories of Edward behind.
But at the same time, I see that Bella is holding onto Edward still. Her memories of them together were so strong that I find myself remembering parts of it as well. It is rather concerning when you think about the condition Bella has been left in. She is withdrawn and antisocial, and now she is seeing things that are not there and hearing voices in her head.
Because the books are so popular, I've been slightly spoilered already, and I know that somewhere along the lines, Jacob Black becomes important (apologies if I've been spoiled wrong and I'm incorrect). So I would really like to hear from those Jacob-lovers if Bella's intense withdrawal from Edward is one of the reasons you think Jacob is better for her? Do you think she is too obsessively attached to Edward for the relationship to ever be good for her?
It seems to me that by the end of this chapter, Bella is already doing much better than she was before- though I can still feel that glimmer of hope that Edward will return, and that things will go back to how they were before. But simply getting out and doing something appears to have brightened Bella future somewhat. I guess there is something fulfilling in zombie films after all… 😀
——NOTES——
– Again, I cannot reply to emails suggesting songs for New Moon. Please only submit them through the page linked in the right sidebar.
– Last week, I hit 1,500 subscribers on my Youtube! THANKS SO MUCH EVERYONE! I am currently #17 most subscribed this week in Partners, which was my first Youtube award, so if you haven't already, please subscribe so I can stay up there!
– Someone asked to see a photo of my writing notebooks- it's on my other blog.
Posted in New Moon
Tags: New Moon, Stephenie Meyer, Twilight