Reading Eclipse: Chapter 23 (Monster)
February 20th, 2009 at 12:05 am by Kaleb Nation
The song for this chapter is Inevitable by Anberlin
[audio:https://twilightguy.com/wp-content/uploads/2009/02/inevitable.mp3]
Many apologies for my lack of regular posting over the past month: as witnessed in my last post, things are simply becoming too overwhelming for one person to handle! But I think I've finally started to get the most rabid of to-do's under control, now that those three biology tests are over and I've finished my 14-page publicity questionnaire! Unfortunately for my fellow students, I had a slight upper hand when one of the questions in the test was coincidentally regarding prophase and interphase. Due to Edward and Bella, the terms had stuck out to me in the study guide, and of course I knew the answer to that one 😀 .
Anyhow, thousands of distractions aside, I'm finally getting to read the famed chapter 23! MONSTER is one of my favorite words in the dictionary. It stands next to 'abhor', 'stink', 'loathsome' and 'abysmal' in my list of favorite English terms, such that my opinion of a perfect sentence might use all of them at once, to the effect of:
"You loathsome monster!" Bella cried. "You stink like an abysmal, abhorrent dog, so cease and desist your obvious attempts at stealing me from Edward!"
However, I do not see these phrases being used in the near future. In fact, it would be hard to say such things at all whilst Bella is so strongly pressed against Jacob's shoulder, and even harder to hear with his snoring.
Brushing past the potentially-scandalous opening paragraphs, Jacob seems to have enjoyed that Bella at least thinks of him somewhat in her dreams, however drowned out by Edward they may be. As to someone talking in their sleep as much as Bella, the only time I've been told of myself talking in my sleep was when I had my wisdom teeth removed and was under heavy anesthesia. Obviously, as the doctor later revealed, I talked a whole lot: everything from my bank statement to girls to movies to who-knows-what.  It is for this reason the doctor assured me he was under contract to never reveal anything I said whilst unconscious. However, to my horror, I later realized that the nurse had signed no such agreement.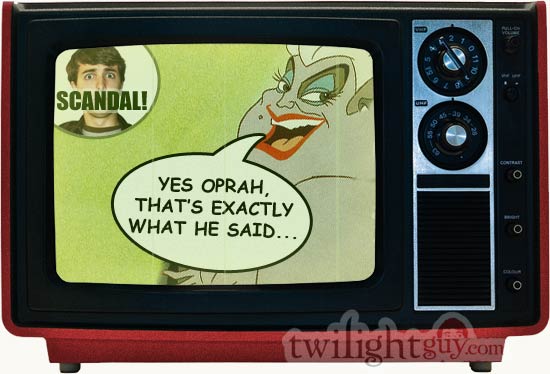 It is a scary thing, talking in one's sleep: but sometimes it's an (admittedly unreliable) way to get into someone's real thoughts. Bella  has obviously been thinking about Jacob a lot recently.
Even for me, leaning towards Team Edward, it hurts to see Jacob listening in on Bella and Edward's conversation. How does that feel for him? I don't know why, but I was under the impression he knew about the engagement; but now knowing that he didn't, I can just imagine how devastated he is. Given the unconventional amount of time that Jacob spends with Edward's girlfriend, he actually does have a relationship with her (as much as I have disagreed). It's close enough to finding out that his girlfriend has decided to marry someone else, and everything he has done for the past months to convince her has been in vain.
There is a part of me who really wants to be happy, since Jacob is finally getting what he deserves, and perhaps he will realize that his behavior around another guy's girlfriend isn't right. If I was solidly Team Edward, I might feel that way. But I can't. For some reason, I feel no victory in seeing Jacob leave. This is a pain that no one should have to go through. Jacob probably means well, in his own way. I know that if I discovered the same thing he did, I would react in the same way.
I am a bit proud of Bella, because she is finally coming to realize what she is doing to both Edward and Jacob:
"I couldn't have them both, because Jacob could not be just my friend. It was time to give up wishing for that. How ridiculously greedy could any one person be?"
And later, to Jacob:
"It was wrong to stay with you when we wanted such different things. It's not going to get better. I'll just keep hurting you."
It's a sign that she might be growing up. It give me much more confidence in her being mature enough to get married, now that she is finally realizing her faults.
But oh, for page 524. Bella basically takes gasoline, piles of newspaper, and a lighted match, and casts all three at the same time upon my hopes. Why, when she is so close to ending it; when she is so close to finally letting Jacob go, and finally giving him a chance for happiness, does she turn around and cause him to come back? It is like a suicidal guy saying if a girl does not love him, he will kill himself. Or, for better example, a guy saying if a billionaire does not pay him money, he will kill himself. It is manipulative, no matter how hurt or downtrodden Jacob might be. And Bella falls right into it.
"Why wasn't I stopping this? […] why couldn't I find in myself even the desire to want to stop?"
However, there still is some sense in Bella's head, however buried underneath these strange feelings it may be. She knows what is happening. She realizes she loves Jacob: but she knows it is not enough.
"Jacob was right […] He was more than just my friend. […] I loved him, much more than I should, and yet, still nowhere near enough. […] it was only enough to hurt us both more."
I read an interesting theory once, from a professor in psychology who was writing about humans and love. In this theory, which probably goes out of the bounds of actual psychology, he proposed that there is no 'one person' that each of us is intended to be with forever. Rather, his theory said that there are about eight 'right persons' for each of us, but that since these eight are spread so much around the planet we will only have the chance of meeting one: a soulmate, of sorts. This study proposed that from a standpoint of compatibility mixed with probability, if someone was to find one of their soulmates, there would only be a very minute chance they would ever meet with any of the other 'eight', and thus wouldn't feel as strong a connection with anyone else in their lifetime; even though the others do exist somewhere.
This makes me think of Bella, Edward and Jacob. What if, according to this theory, the probability actually did catch a glitch, and somehow there are two 'right people' for Bella in the same area? What if, both Edward and Jacob are equally right for her, and only Edward's luck at finding her first gives him the better chance? Bella admits it herself: she loves Jacob too much for it to be good.
But why is it too much? The reason it is too much is because Edward was there first. If she had met Jacob first, wouldn't you think she would be loyal to him, and Edward would be the one trying to steal her away? [Added: It was brought to my attention that Bella had met Jacob before, as mentioned in Twilight that she had known him for years. But, at that time it seems to be more of a passing friendship, and nothing very deep like Edward was. ]
I will say that, in spite of my points earlier, and my aversion to Jacob's manipulation, that this could perhaps be my favorite chapter so far in this entire book. It's a turning point, of sorts. I'm coming to realize just how deep Jacob runs in Bella's heart: this piece that perhaps she could remove; but by removing it, might only open the wound again.
Question for the comments: If Bella had fallen in love with Jacob first, do you think it would change things? If Jacob had found Bella before Edward, do you think she would love him instead?
ADDED QUESTION: What if Edward hadn't appeared at all, do you think Bella would be happy with Jacob?

——NOTES——
– I have something epic coming up on Youtube. Yes, epic. Bigger than Rob and Taylor epic.
– MTV has an exclusive look at the new title art for New Moon!

Posted in Eclipse
Tags: Anberlin, Jacob Black