Reading Eclipse: Chapter 22 (Fire and Ice)
February 14th, 2009 at 12:02 am by Kaleb Nation
The song for this chapter is Hot N Cold by Katy Perry (suggested by Melanie)

[audio:https://twilightguy.com/wp-content/uploads/2009/02/hotandcold.mp3]
This entire week has been a rush of school and writing stuffs, and I don't believe I have stopped for even a minute to take a breath. However, while I was out getting prints made for my photography class, I managed to check the fanmail PO box, and behold the return address on one of the packages:
From the star herself?! Wowsa, what could it be? You'll know its mysterious contents soon enough 😀
Anyhows, after my psychology test, I managed to leap into the next chapter in Eclipse: the much-hyped and anticipated Fire and Ice! Usually, when I receive an odd amount of comments or emails from people saying they 'simply cannnottt waitttt…lulzzz!!1!' for me to read a certain chapter, I instantly know to be wary. The last time this happened, Bella attempted to extract herself from more than the usual amount of clothing someone removes during wintertime. Now, she and Edward are alone in the mountains in a tent. Whoops. Maybe I should skip this one…
Luckily for me, there's still someone else to keep them company: probably wary, I'm sure, of leaving them alone. Not like it would matter. As half of the title suggests, there is quite a bit of chill up there: and not even half of it is coming from the vampire. I can say from terrible, horrible, oh-so-memorable experience that cold weather and camping do not mix well. In fact, on one such camping trip, it was so cold that my Boy Scout troop won the Polar Bear Award for actually surviving the night (true story).
Unfortunately for Bella and Edward, there appears to be no such award in Forks. But never fear: Jacob Black is still hanging around as always; and, he is all too eager to make himself useful. In the kind and total selflessness of his heart, he offers himself as a living space heater to Bella Swan, with the pure and noble intentions of simply keeping her warm through the night.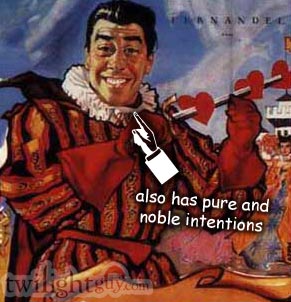 Smooth, fella. Very smooth.
I enjoy this confrontation between Jacob and Edward: partly, I believe, because they are forced to be together and not fight, for the sake of Bella. They really seem to want to kill each other: you can feel it in the tone of their words. But even in the midst of this verbal battle, there's some type of common goal that they both must work towards, if they want Bella to survive.
I pick up a certain amount of uncertainly in Jacob's words, something that he doesn't show much when Bella is listening. I think that deep down, he knows that he will never convince Bella to leave Edward. Somehow, he seems to know this, but he is fighting it: hoping that somehow she will leave the vampires. And he is right: it might better for her to stay with him. I'm sure the prospect of leaving Bella to Jacob, and her staying a human, is quite a conflicting one for Edward. It would easily be better for her to stay a human, in a literal sense: but how long would she survive if Edward was gone? I don't think he's willing to take the chance again, after what happened in New Moon.
People have gotten onto me recently because of my disagreements with Jacob, and his obviously intent of stealing Bella from Edward. Admittedly, it is hard for me to see any excuse for Bella to keep both of them hanging on: it is something that is simply not done, in any sort of respectful relationship. But there is a great amount of truth in saying that Edward did leave Bella: he told her he didn't love her anymore, and he would never return. Team Jacob people tell me all the time that Edward brought Jacob into the relationship because of that: and now, he must suffer the consequences of his actions.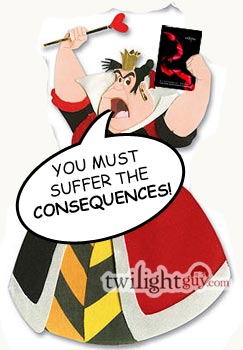 Still, there seems to be a deeper, underlying meaning to this scene in the tent: an analogy, almost, to where Jacob and Edward stand in regards to Bella. Perhaps I am mistaken. But I seem to pick up on certain familiar images. I see Edward in the tent, wanting to help Bella but feeling unable to. And I see Bella not wanting to accept Jacob, but needing him in some way. And in the middle of this, I see Edward accepting the fact that for Bella to survive, he might need a bit of help from Jacob after all.
And isn't this the core of their problems? Isn't this what has caused so much friction between the three? As I have said many times, it is the nature of this triangle: you cannot remove one without the other two collapsing upon each other. If Edward was to leave, Bella would surely die. If Jacob were to leave, she would never forgive herself. And like Edward, perhaps I am slowly coming to understand Jacob's special purpose in both of their lives 😀
Question for the comments: feel free to take guesses at what Christian Serratos sent. Oh, and I'd love to hear about any nightmare camping experiences, sans werewolf space heaters 😀
——NOTES——
– Happy Valentine's Day to all! I realize this is very anti-climactic for a blog studying a romance novel, but it is 2 AM here and I can't make a proper card nor flowers 😀
– For anyone who enjoys my music, I just uploaded a new song that you can download for free — click here to listen!
Posted in Eclipse
Tags: Christian Serratos, Eclipse