Reading Breaking Dawn: Chapter 9 (Sure As Hell Didn't See That One Coming)
May 12th, 2009 at 5:47 pm by Kaleb Nation
The song for this chapter is Remember by Big Dismal

[audio:https://twilightguy.com/wp-content/uploads/2009/05/remember.mp3]
Today is the start of that glorious time known as Summer Break, in which my free time increases rapidly only to be immediately filled again even more rapidly. As pointed out regularly in my complaint-mail, at the current rate of reading I might finish Breaking Dawn in a matter of 9 months. NINE?! That was the old Kaleb. THIS IS THE NEW KALEB WRITING. New, as in, suddenly realizing it is time to get down to business and start reading more, faster, and more often. Shorter posts? Perhaps. But more often? Heck yes. No ridiculous 9 months for me.
The whole hiding-food thing that Jacob and Billy have to do when Paul is around is no strange thing to me. I grew up in a house with five children (four were hungry boys) and two parents, and anytime my mom wanted things of the tasty nature (AKA chocolate) she would be forced to hide it or else one of us would have our paws in it. I, being the perfect child, never used any of my detective skills to sleuth out these hiding places and said treats.
This werewolf thing with eating all the time still has me wondering about who pays the grocery bills. After all, I don't really observe the werewolves working. They always seem to be loafing around the house and eating chips or watching television, and punching each other in the nose. They're really much like a bunch of dogs with no owner. With the amount of food they're eating, somebody's got to be ponying up the cash, because they certainly aren't surviving on berries and honeycombs.
Jacob's concerns aren't really with that ridiculousness though. He's got a plan. Even if the wolf pack won't do anything about Bella and the Cullens, once again Jacob is going to get himself into a fight. Why does this not surprise me? Still, I find it so amusing that Jacob's vision can be so distorted simply by his hatred for the Cullens. To him, the whole place reeks of a strange 'vampire smell' and their  house has 'no life around the big white crypt'.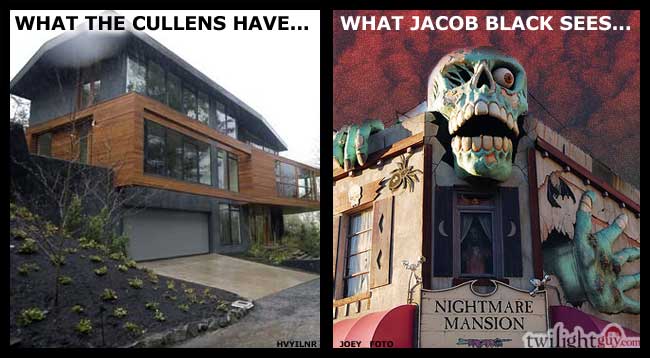 But then on page 171, things begin to get quite interesting. In fact, I was taken very much by surprise. Because, for some reason, in reading the Twilight Saga, I have not consciously realized that it has singularly been from Bella's viewpoint. I take that back: I have realized it is from her viewpoint, but because most books are not written as Stephenie has done (as in, in the last book, changing viewpoints to an entirely different character) I haven't really tried to delve into the heads of everyone else. Due to this, I have never seen Bella through Jacob's eyes, or anyone else's eyes for that matter.
This is very important. I am a guy, and this book has been through a girl's perspective the entire time (which admittedly gets painful at times, especially when Edward has mysteriously misplaced his clothing). I have never gotten any description of Bella from any other guy's mind: everything I have heard has come from her own, which is blatantly dull. But when Jacob describes Bella so vividly, with her eyes and her face, and his heart beating reapidly like 'a strange broken meter' I suddenly came to realize, in one great moment, exactly why Jacob has never given up on her.
It's a big revelation for me, who has abhorred Jacob for a very long time (regular readers can attest to this). I have the tendency to villify Jacob because I've never had the chance to get into his head, and for some reason I drew comparisons between him and other guys I have met who are shallow individuals and manipulate their girlfriends using the same twisted techniques it appeared Jacob used. But getting into Jacob's head, I realize that what he has done for so long might not be through an utter disregard of Bella and Edward, but through an enormous and exhausting desperation to 'save her' from the vampire and his seductive wiles.
I see this is a very vulnerable time for both Jacob and Edward. But that could be what they need. It is true they both love Bella, and there is no getting around it: they will be forced to live with this somehow, even though she is Edward's, and Jacob should rightfully make way because of that fact. Jacob will always be this presence in their lives, because Bella isn't strong enough to let him go. But the fact that Edward actually lets Jacob see his weakness, and his fear, and his helplessness, really means something. Edward isn't up for a fight. He just wants Bella alive: and he seems willing to go back and let Jacob have her, if only for her to stay that way.
"You should have left Bella with me." Jacob said.

"Yes." It was a bit late for that though.
It is hard for me to come up with anything humorous as I near the ending of this chapter, because things have sunk into such a seriousness that it doesn't even seem right. Edward truly is willing to do anything. How far into depression and fear must one sink in order to offer his new wife to his archenemy? Does anyone even understand how deeply Edward loves Bella, and how utterly insane he must be over keeping her alive? If everything went exactly as he is offering, he would claw his eyes out every single time Bella stayed overnight with Jacob. It would be an indescribable pain just imagining her with someone else, simply because he cannot give her children that aren't a threat to her life. Edward is desperate. The last time he was, he nearly killed himself in Volterra. It hurts to see him this way.
QUESTION FOR THE COMMENTS: Do you think it is alright for Edward to offer to 'share' Bella with Jacob, even if it is to save her life?
——NOTES——
– That picture really is a 7-year-old me 😀
– Kim Harrison, co-contributer to Stephenie Meyer on Prom Nights From Hell, wrote a wonderful blurb for my writing, which you can read here.
Posted in Breaking Dawn
Tags: Bella Swan, Jacob Black