Reading Breaking Dawn: Chapter 8 (Waiting For The Damn Fight To Start Already)
May 9th, 2009 at 12:15 am by Kaleb Nation
The song for this chapter is Mr. Brightside by PlayRadioPlay

[audio:https://twilightguy.com/wp-content/uploads/2009/05/mrbrightside.mp3]
I don't think I've ever been happier to be feeling well! Even though it's only really been a few days, I'm one of those people who has to be doing something all the time or else feels they've lost touch with everything, and thus being sick in bed for nearly a week is quite a depressing time for me. Not only am I now feeling better, but with only one more final to go, a few months of break from school is just around the corner for me. And what a summer break it shall be!
With what could perhaps be the longest chapter title in Twilight Saga history, we once again enter into that strange brain of Jacob Black. I love the fact that I get to delve into Jacob's head a bit. Many people have probably noticed how much Jacob's immaturity irks me, sometimes to the point of paragraphs of rants detailing exactly why he annoys me and how I think he should evict himself headfirst off the nearest cliff (alright not quite that bad). Still, I welcome the chance to get to know him more. Like The Phantom in his opera, there are some characters who seem quite despicable at first, but after I get to know them my opinions change dramatically. We shall see if something similar happens with Mr. Black.
These werewolves sure like to fight. I feel like my grandmother waggling a finger at them and going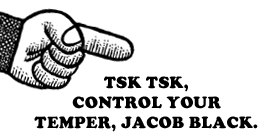 as they punch and lunge at each other over hardly more than a bag of chips and a chair. Due to this behavior, there is an almost constant theme of things being smashed throughout the beginning of this chapter, such as:
"You better've brought those with you." CRUNCH.

He heard where I was going and shoved the bag behind his back. CRUNCH.

Maybe he'd smashed her like a bag of chips in his drive to get some? (CRUNCH.)

His eyes shifted to the TV. I lunged. His nose made a very satisfying CRUNCH.
Jacob obviously isn't in love with the idea of imprinting either. It leads me to wonder if this is because he didn't actually imprint on Bella, and might have known all along that because of this she couldn't have really been his? I've seen this point argued before and I know there is a very specific reason why this doesn't matter, but I've always wondered why Jacob pursued Bella so strongly when he hadn't imprinted on her. With a lack of imprinting, his love for her wouldn't actually be the best love for either of them — and as a very unsettling thought, he might imprint on someone else in the future and leave Bella behind. It's always confused me. Did Jacob think that after time he would imprint on Bella? Again this could be my faulty memory fooling me when the reason for this was made obvious volumes ago, and everyone on Team Jacob is laughing uproariously at my expense.
Jacob is still very concerned for Bella, and it's obvious that even after the wedding, he still isn't giving up on that tiny bit of hope she'll realize what she is doing and come back to him. Because, everyone knows it is far safer being with a werewolf than a vampire. That point aside, his brooding has surely gotten quite painful, especially imagining Bella and Edward together now. I mean, in most relationships, there are months between breaking up with someone and then her getting married to someone else, which means time away from each other to heal. Jacob hasn't gotten that, because he never gave up, even to the day of the wedding. It would be misery if the girl I loved went off and got married to someone else, leaving me with little besides some guy sitting on my couch…watching my television…eating my chips.
Mr. Black is really a killjoy too, by the way. I'm laughing immensely that his first reaction to Paul's guffaw is considering breaking his nose again. He's like the Burgermeister Meisterburger, who tripped on one toy and then decided to burn the lot in a fit of rage.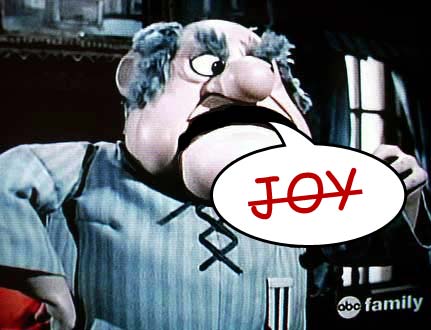 Disregarding what could have just been my most obscure movie reference ever, the conversation with Quil has me wondering if Jacob has ever thought he actually did imprint on Bella? He says he doesn't see any other girl, and he seems so sure that they are meant to be together. He might know differently, but I wonder if it has ever made him really think. It would be very difficult for him if he had imprinted on her, when she just married Edward Cullen. If imprinting really is something they can't control, Jacob might actually be in a better position now if he doesn't imprint on her, because otherwise it could get very messy.
With the news of Bella's return to Forks, there seems to be some decision-making going on. The werewolves aren't quite up to a full-out battle, but Jacob Black is ready to take on the Cullens all by himself. One wolf against a coven of vampires? Oh yes Jacob, you're really going to survive that one. Still, with all his determination to get revenge for what he believes is Bella's death, there's something akin to a miniature war that might be about to happen.
QUESTION FOR THE COMMENTS: If Jacob HAD imprinted on Bella, how do you think the story would have changed? Do you think Bella would have still married Edward? Would Edward have fought Jacob or would he have let her go?
——NOTES——
– For those who keep up with my music, I just composed an entirely new song you might enjoy and can download for free.
Posted in Breaking Dawn
Tags: Jacob Black