Reading Breaking Dawn: Chapter 10 (Why Didn't I Just Walk Away? Oh Right, Because I'm An Idiot)
May 15th, 2009 at 3:56 pm by Kaleb Nation
The song for this chapter is Walking Away by Craig David (suggested by Haley)

[audio:https://twilightguy.com/wp-content/uploads/2009/05/walkingaway.mp3]
Now that summer break is here, the time has come for me to actually get moving on things. I have so much to catch up on, but now that I have all this free time, I suddenly can't make myself get out of bed. To add to this sloth, as another part of the new-and-improved Kaleb for summer break, I have started a new daily workout routine. This has left me so sore today that my fingers are having a hard time connecting with the correct keys on my keyboard, and I am hurting in places I do not want to imagine muscles being.
Jacob, however, has none of these problems, because he is a werewolf, and werewolfs are teh OMG hawtness. Instead, he's just been offered the girl he loves by the girl's own husband, who is basically begging him to go make some babies. For some reason, I get the feeling I have been transported from the world of Twilight into something one might find in a tabloid. This does not bode well.
It's so interesting, watching Bella from Jacob's point of view. Since we've been stuck inside her head for so long, it's almost like an out-of-body experience, seeing her through someone else's eyes. She acts just the same as she did on the outside even when we were in her head, but now I'm left going insane wondering what she is thinking at this time. We used to know this, of course, and we would know what sorts of things she was planning, and how she felt about Jacob and Edward's proposition to her. But now we're blocked out: we're one of the outsiders, who are left to try and figure her strange mind out on our own. Is this what Edward feels, not being able to get into her head?
I found much amusement in this:
She sighed.

"I told you–," I started to say.

"Did you know that 'I told you so' has a brother, Jacob?" she asked, cutting me off. "His name is 'Shut the hell up.' "
The imprinting part was a relief to hear coming from Bella. I am so happy that Bella is finally pointing out this very important fact to Jacob. He will find his true love. He doesn't need to despair, because at some time, he will imprint on someone. Now that Bella is Edward's, Jacob is just hurting himself more by hanging on to her when he could be looking for his own true love.
"Edward […] said it was like A Midsummer Night's Dream, like magic. You'll find who you're really looking for, Jacob, and maybe then all of this will make sense."
Jacob is just young, and immature, and impatient. I can't blame him, because that's just who he is. And it would be very depressing to be in his position, because when you truly think you're looking at the girl who was meant to be yours, it hurts to be told that someone else will come along, because you don't want anyone else. But there really is still hope for him to find someone, even though that isn't Bella.
What Edward asked Jacob to convince Bella of was entirely out of line, and many of you agree with me (as shown in the comments on Chapter 9). Edward doesn't 'own' Bella, and he has no right to 'give' her to Jacob under any circumstances. His intentions are good, and the plan was made in desperation, but it is this desperation that is throwing everyone into a frenzy. Edward has already had to deal with losing Bella once, even though she hadn't actually died. He'll do anything now to keep her.
Bella, however, seems to be the only one who has any sense at the moment, despite the fact she might be a bit loony due to whatever is growing inside of her. Jacob then makes the smart move of leaving entirely. I'm not even saying that sarcastically. It is best for him. It's not only best for him, but it is best for Bella too, for him to be gone for a while, and let her think. It's a lot to deal with for Jacob, I'm sure. It's also a lot for the pack to deal with obviously, when they get the full image of Bella from Jacob: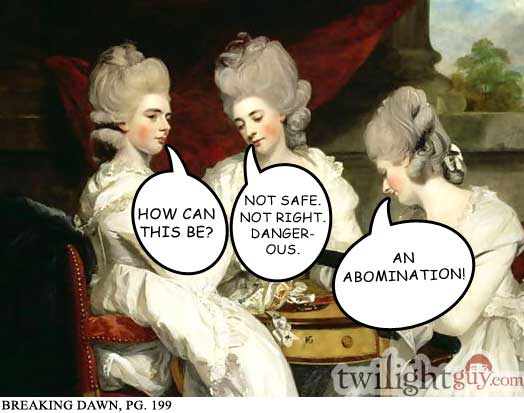 But are any of them actually prepared for what Sam is telling the to do? This isn't simply an attack mission against a group of vampires: it is an all-out war between the werewolves and the Cullens, where a state of uneasy peace has existed for many, many years. All their treaties and agreements are suddenly up in the air for this. They've fought alongside each other before, against Victoria and her minions. What will it mean when they all get into that battlefield, and are forced to turn on those who were once their allies? I don't think this will be anywhere near as easy as Sam seems to think.
QUESTION FOR THE COMMENTS: If Bella's baby died, do you think she would choose to have children with Jacob or would rather stay childless and with Edward? Which would you rather she do?
——NOTES——
– My good friend Nicoleface is doing a relay for life in honor of her mother, who is battling cancer. Please click here to find out how you can help (and perhaps win something?)

Posted in Breaking Dawn
Tags: Jacob Black