TwilightGuys Report: The Tale Of Two Hales
May 14th, 2008 at 12:30 am by Kaleb Nation


THE TALE OF TWO HALES
" My wife and I have been married for three years. Less than a month ago, she gave birth to our first children–twins, a boy and girl whose names will be revealed later. After hearing about the Twilight series from one of her college friends, she began reading the books as well. She went to our local bookstore and bought all three books in one fell swoop.
Days later, all she could talk about was "Edward this" or "Jacob that." It was enough to drive me insane. Here we were, a young married couple, and all she can talk about is a bunch of fictional men! Of course, after much pleading and pouting, she got me to read the first chapter of Twilight. Soon enough, I was hooked, too. We were both greatly amused to discover that we shared the last name of two of the characters: Jasper and Rosalie Hale.
So, when she found out she was pregnant with twins–a boy and a girl, to boot–there was never any question of what she would name them. Naturally, I was given no say in the matter.
As of April 15th, my wife and I are the parents of the real-life Jasper and Rosalie Hale. "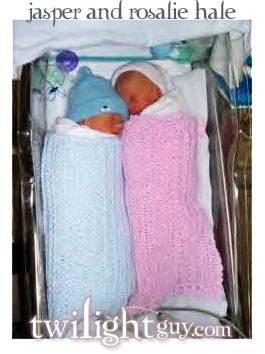 Submitted by R Hale


One of the best guy reports I've read! An Esme fan club shirt from TwilightTeez.com to Mr. Hale!
Join online 350-030 training to pass 642-832 exam. Get guaranteed success in real exam using braindumps oracle and practice test.

Posted in TwilightGuys Report